Musk Reads: Tesla Solar Gets a Price Cut
Plus, Musk gets his tweeting curtailed and SpaceX's Starlink gets the green light.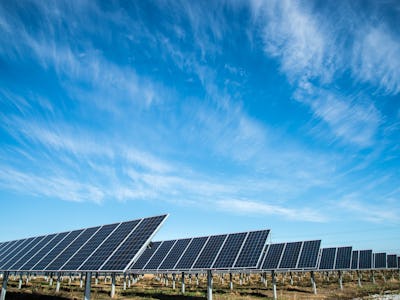 Unsplash / American Public Power Association
Tesla's solar energy panels get a price cut; SpaceX's Starlink gets the green light; and Musk's Twitter posts get curtailed. It's Musk Reads #76.
A version of this article appeared in the "Musk Reads" newsletter. Sign up for free here.
Musk Quote of the Week
"What should be developed on Ethereum?"
Tesla
Tesla has announced price cuts for its solar panel offerings as part of its plans to boost its standing in the market. The firm, which acquired its solar business from SolarCity, plans to offer panels for somewhere around $1.75 to $1.99 per watt. The move comes as Musk declares 2019 the year of the solar roof after a series of limited installations. The company also plans to ramp up the Powerwall batteries, which helped bring Puerto Rico back online. These moves pave the way for Musk's house of the future demonstrated in 2016. This ramp-up is now expected to come in late 2019 and possibly even 2020. Read more.
Tesla's robo taxi plan, where drivers rent out their autonomous cars to other users, could transform cities far more than Uber ever did. Three transportation experts told Inverse it could create more traffic thanks to the induced demand issue. Musk has been pushing The Boring Company as a means of solving these problems by building more tunnels in cities. It's perhaps an issue legislators will need to address before Tesla and others take to the roads. Read more.
The Securities and Exchange Commission also reached an agreement with Musk this week over his Twitter use. Musk will now have to run sensitive information past a securities lawyer before sharing anything. The decision comes after Musk shared production information in February even though he was ordered not to post similar information on Twitter as part of an agreement with the commission. The furore over Musk's Twitter use first started when he claimed he had the funds to take Tesla private in August 2018.
What's next for Tesla: Tesla is set to start selling the Model 3 in the United Kingdom after revealing its pricing and order page Wednesday. Prices will start at £38,900 ($50,242) for the cheapest model and rise to £56,900 ($73,490) for the performance edition.
SpaceX
The space-faring firm got the green light on Starlink this week. While the FCC had previously approved the company's plans to deliver satellite internet, this tweaked plan brings some of the constellations into a closer orbit. The groundbreaking setup of more than 4,000 satellites greatly outweighs any previous constellation, and revenue could help fund a trip to Mars. Read more.
What's Next for SpaceX: SpaceX is expected to fly its next mission to the International Space Station no earlier than May 3. The Dragon spacecraft will ferry more than 5,500 pounds of supplies to the space station.
Photo of the Week
SpaceX's Starhopper takes shape
The Ultra-Fine Print
This has been Musk Reads #76, the weekly rundown of essential reading about futurist and entrepreneur Elon Musk. I'm Mike Brown, an innovation journalist for Inverse.
Sponsor Musk Reads and get your business in front of a brainy, curious audience that's motivated to make the world a little better tomorrow.advertising@inverse.com.
Email me directly at mike.brown@inverse.com and follow Inverse on Twitter @inversedotcom. Follow me on Twitter @mikearildbrown.
A version of this article appeared in the "Musk Reads" newsletter. Sign up for free here.
Update 5/2 12:30 p.m.: An earlier version of this story stated that Tesla's solar prices were now 38 percent below the national average. This has now been corrected.