Can You Hear "Telepathy" in This New 'Avengers: Endgame' Clip?
We also have eight predictions for 'Game of Thrones' Season 8.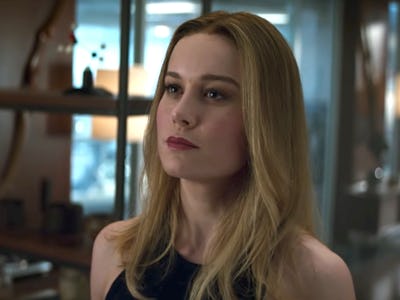 Marvel Entertainment
The road to Avengers: Endgame is nearing its end … there's a ton of theories for Game of Thrones Season 8 … and Bruce Lee's dream TV show is finally realized.
I'm Eric Francisco, senior entertainment staff writer at Inverse, and this is Multiverse, your twice-weekly guide to news in the geek galaxy.
This is an adapted version of our Multiverse newsletter, a twice-weekly digest of our essential stories from the geek galaxy. Sign up for free here.
Carol Meets the Avengers
The first full clip of Avengers: Endgame not only shows Carol Danvers meeting the Avengers but also mentions Thanos, who is somehow capable of using the power of the Infinity Stones a second time. But that's not the only thing fans are picking up in a special one-minute clip that premiered on Good Morning America this week.
People say they are literally hearing a faint whisper of somebody saying "I have telepathy" in the moment Carol stares down Thor. Reddit is divided on whether or not this is actually happening. Personally, I think it's not. Telepathy has never been one of Carol's superpowers, in either comics or movies. Y'all crazy for this one. Hear the clip for yourself.
What's Next: Avengers: Endgame will be released in theaters on April 26.
What do you think? Can you hear someone whispering "I have telepathy" in the new clip from Avengers: Endgame? Let us know in an email to eric@inverse.com and we'll run the best responses in Thursday's Multiverse.
Read More About Avengers: Endgame:
A Game of Thrones Rom-Com and Rap Album?
It's like Coachella in Westeros. To commemorate the final season of HBO's Game of Thrones, HBO and Columbia Records is releasing For the Throne, a star-studded album featuring new songs by today's biggest musicians, including The Weeknd, A$AP Rocky, Mumford and Sons, SZA, Lil Peep, Travis Scott, Maren Morris, and more. There's a serious lack of fantasy metal, but at least there's no Ed Sheeran cameos.
Elsewhere, we have predictions for Season 8. Series star Emilia Clarke has openly discussed receiving the cold shoulder when she meets Sansa Stark (Sophie Turner). But what about Last Hearth? Or Melisandre? Or the resurrected Viserion? Check out our predictions here. Read more.
Bruce Lee's Dream Come True
In the 1970s, martial arts legend Bruce Lee pitched a series titled The Warrior, which would have seen Lee star as Hollywood's first Asian leading man in a television series. Now, decades after his death, filmmaker Justin Lin (Fast & Furious) and Lee's daughter, Shannon Lee, have brought Warrior to Cinemax. I interviewed the producers on the long journey to Warrior. Read more about it here.
Rey's Parents, Rebooted
Rey's parents may be revisited in Star Wars: Episode IX, and they may be more than just some drunk junk traders. In an interview with MTV, Rian Johnson said he's hoping J.J. Abrams will "do stuff that I wasn't expecting him to do." Considering it was Rian Johnson who wrote and directed Star Wars: The Last Jedi, fans think this means Abrams might undo Kylo Ren's "revelation" about Rey's parents. Read more.
How Shazam! Kept Secrets
Shazam! pulled a fast one on all of us. Spoilers for those who haven't yet seen the newest film in the DC franchise, but I spoke to director David F. Sandberg on how Shazam! kept its super fun cameos a super secret. Superman and the Shazam family both make appearances in the movie, and here's how they did it. Read more.
Stranger Things Has a Stranger Ending
You can't stay in Hawkins forever. Ahead of the release of Hellboy, star David Harbour said in a new interview that the ending of the hit Netflix series is "beautiful." This not only confirms that there will be a conclusion to Stranger Things, but that it's pretty set in stone. Harbour added that the ending won't be for awhile, with the show's producers aiming for at least four, "maybe five" season run. Read more.
Meanwhile…
What's Next
This Friday, the new Hellboy hits theaters in a reboot of the gothic Mike Mignola comic book character. On Saturday, Emma Stone and K-pop band BTS host Saturday Night Live, which means there will be quite the Asian invasion of 30 Rock. And on Sunday, a tiny, unknown show called Game of Thrones begins its final season.