How 'High Life's Director Cast André 3000 in Her Trippy New Sci-Fi Thriller
"His agent said, 'No no no.'"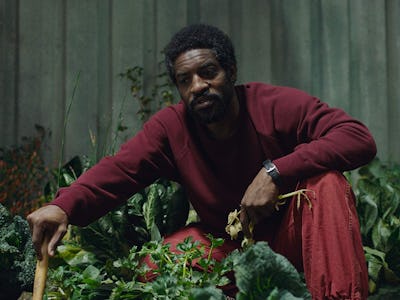 A24
Outer space is no place for a baby in High Life, but, surprisingly, André Benjamin (best known as one half of the rap group Outkast) fairs relatively well in this visceral new science fiction movie from French director Claire Denis.
"I always liked André 3000. I always liked Outkast" — Claire Denis
Benjamin plays Tcherny, part of a group of death row inmates offered a chance to serve society through a series of interstellar experiment. He's also the closest thing the movie's protagonist, Robert Pattinson's Monte, has to a friend. But what is the Atlanta rap star doing in a twisted indie movie from indie movie distributor A24? It turns out that convincing Benjamin to join the cast was a lifelong dream for High Life's director, one she went to great lengths to fullfill.
Speaking at a screening at the Brooklyn Academy of Music attended by Inverse, Denis (a 72-year-old French woman) revealed that's she's always been a fan of Benjamin's Atlanta-infused brand of hip hop and finally seized on the opportunity to cast him in High Life.
"I always liked André 3000," she said. "I always liked Outkast, and I had this idea, if one day I do a film in english and I can cast american people I would like to meet André Benjamin and ask him."
That movie was High Life, which Denis decided to film in English because, as she explains, the only languages people speak in space are English and Russian. Once she made that decision, reaching out to Benjamin was obvious, but the initial attempt didn't exactly go well.
"His agent said, 'No no no. Only if you come to meet him in Atlanta.'"
So that's what she did.
"We went to Atlanta and we had a meeting in a restaurant and he was there, and Queen Latifah came to check on us," Denis said. "And then, he said yes. I'm surprised because I didn't think he would. His spirit was so easy."
"His spirit was so easy." — Claire Denis
Benjamin doesn't have a huge role in the film, but he provides a calm center of gravity in every scene he's in. For a movie where everyone else seems ready to snap at a moment's notice, Benjamin is decidedly chill, which feels out of character with his André 3000 persona.
He also gets one of the best lines in High Life, calling out Monte's decision to abstain from the sexual experiments happening on the ship by casually calling him "Mister blue nuts."
"There was not a single take when I'm looking him in the eyes when he tells me that," Pattinson told the Brooklyn audience.
Alongside Pattinson and Benjamin, French actor Juliette Bînoche stars as Dr. Dibs, a mad scientist carrying out those experiments in an effort to successfully create new human life in space. Bînoche's character feels more fleshed out than anyone else in High Life, but it turns out that casting process was complicated as well.
"I had met Patricia Arquette and I wanted her to be the doctor," Denis said, "But then after she was delayed, she had to do something. She couldn't be free at the same period. I had just finished a film with Juliette at that time. We were at Cannes, and Juliette said 'Don't be sad, let's say I will be replacing Patricia Arquette.'"
For a movie about a misfit space crew forced together by the criminal justice system, it's fitting that the cast came together just as haphazardly. But unlike the crew in High Life, the cast's mission of creating an intriguing new sci-fi movie feels like a resounding success.
High Life is now playing in select theaters.