Why Destin Daniel Cretton Is Such a Compelling Pick to Direct Marvel's 'Shang-Chi'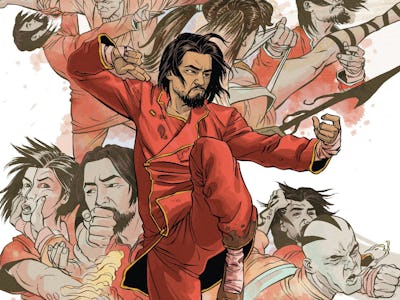 Marvel Entertainment
Fear the fist of Shang-Chi! Marvel's first Asian superhero movie has found its director in Destin Daniel Cretton. In a pattern established with directors like James Gunn and Ryan Coogler, he's an indie darling stepping up to the major leagues of Marvel.
On Wednesday, The Hollywood Reporter reported that Cretton will direct Shang-Chi, which will be the first Marvel movie starring an Asian lead.
Cretton isn't be the first Asian director to helm a Marvel movie — the studio hired Chloé Zhao in late 2018 to direct Eternals — but it's exciting in the fact that, like Coogler on Black Panther, a unique and racially-specific superhero has found a director of a similar background.
Cretton, who is half-Japanese, grew up in Hawaii, where he took up filmmaking as a hobby before becoming a director. And while not an action director, Cretton earned acclaim in 2013 with his dramatic feature Short Term 12, which starred Brie Larson, who is currently dominating the MCU in Captain Marvel.
THR says Cretton beat out other up-and-coming Asian-American directors, including Alan Yang (Master of None) and Deborah Chow, whose TV credits include episodes of Reign, Jessica Jones, and the Disney+ series The Mandalorian.
Marvel has not publicly set a release date for Shang-Chi, nor has the studio officially cast its lead actor.
Shang-Chi will see Cretton team up with Wonder Woman 1984 screenwriter Dave Callaham to introduce the character of Shang-Chi to a modern, worldwide audience. With its heavy immersion into Asian culture, is being positioned to have the same cultural impact as Black Panther.
Introduced in 1973 to capitalize on American pop culture's obsession with martial arts (following the death of Bruce Lee), Shang-Chi is the "Master of Kung Fu," a superhero who outclasses the entire Marvel Universe in hand-to-hand combat. He is the son of pulp villain Fu Manchu, who discovered his father's villainy and chose to rebel against him. Shang-Chi would later have crossovers with characters like Spider-Man, Domino, and the Avengers.
In the 1970s, Shang-Chi was one of the most popular Marvel characters; his comic book series, Master of Kung Fu, lasted a whopping 125 issues. He was created by Steve Englehart and Jim Starlin (creator of Thanos) after Marvel failed to obtain the rights to produce a comic book based on the TV show Kung Fu which starred David Carradine.
Cretton's hire has some interesting implications for the kind of movie Marvel is looking for with Shang-Chi. While one would reasonably expect that a film starring a "Master of Kung Fu" would be helmed by an action or martial arts director, such as Justin Lin (Fast & Furious) or Jon M. Chu (G.I. Joe: Retaliation), Marvel instead went with Cretton, whose filmography is almost exclusively made up of dramatic films.
Cretton's only other theatrical movie is 2017's The Glass Castle, an adaptation of journalist Jeannette Walls' memoir of the same name. His next film, Just Mercy which will be released in 2020, is also an adaptation of a memoir by Bryan Stevenson, who will be played by Michael B. Jordan.
Cretton's hire feels very similar to Coogler on Black Panther. Like Cretton, Coogler was also a director who hadn't helmed big blockbusters, but intense dramas (2013's Fruitvale Station) and films like 2015's Creed, a continuation of the Rocky films that explored the crushing weight of legacy and expectations.
In the late '80s and early '90s, Stan Lee tried to produce a Shang-Chi movie or television series during his time on Marvel Productions, a predecessor to Disney's Marvel Studios. The famed comic book creator hoped to cast Brandon Lee, the son of Bruce Lee, who later died in an on-set accident during the making of 1994's The Crow. "He thought Brandon would be a future star," said Stan Lee's former boss at Marvel Productions, Margaret Loesch.
"Stan had great belief that those movies and TV shows based on those types of characters could be very popular," Loesch told Inverse in a 2018 interview. I can't remember what happened, I think maybe we felt out the networks and they weren't interested because of the violence."
There is not yet a release date for Shang-Chi.