Marvel Has Its First Woman of Color Director for Jack Kirby's 'Eternals'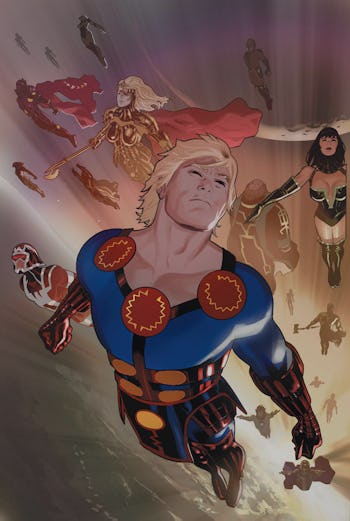 Marvel Entertainment
Jack Kirby was a groundbreaking artist in the history of comic books, and it's appropriate that a film based on his creations would be just as pioneering. Marvel Studios has enlisted acclaimed Chinese director Chloé Zhao for its next ambitious science-fiction film, starring the Eternals.
On Friday, The Hollywood Reporter cited anonymous sources that indicate Zhao has landed the gig of directing The Eternals. The screenplay is written by Matthew and Ryan Firpo, whose spec Ruin was part of the Black List in 2017.
Based on a Jack Kirby series after his time at DC (where Kirby invented the similar New Gods; a New Gods film is in development with Ava DuVernay), the Eternals are an immortal race of humans spun off from the evolutionary process. The film will allegedly center on a love story between two Eternals: Ikaris and Sersi, the latter of whom lives among human civilization.
Zhao makes history in genre cinema, as she will be the first woman of color to direct a feature film for the juggernaut Marvel Studios. (2008's Punisher: War Zone, directed by Arab-German filmmaker Lexi Alexander, was part of the short-lived Marvel Knights subsidiary.) Next year's Captain Marvel, starring Brie Larson, is co-directed by Anna Boden and Ryan Fleck.
Zhao was hired for the gig after her name was initially thrown into consideration for Black Widow, the long-anticipated female superhero movie starring Scarlett Johansson. That film is now under the eye of Cate Shortland.
Born and raised in Beijing and educated in London and New York, Zhao made waves with her debut film Songs My Brother Taught Me in 2015. A contemporary drama set in the Pine Ridge Indian Reservation in South Dakota, the movie explored the relationship between siblings of a Lakota Sioux family.
Her next film, 2017's The Rider, also set in South Dakota, followed a rural family with a son suffering brain damage after a disastrous rodeo accident. Both films have over 90% scores on Rotten Tomatoes.
There is no release date set for The Eternals.