5 Unforgettable Jack Kirby Creations, from Captain America to X-Men
Today, the legend turns 100. Here are just a sample of Jack Kirby's most important creations.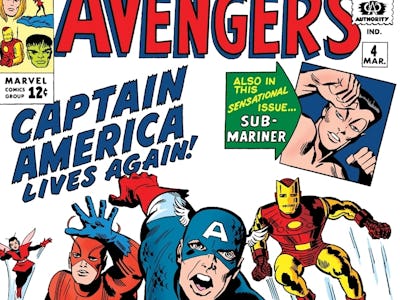 Marvel Entertainment
One hundred years ago, Jacob Kurtzberg was born to two Austrian-Jewish immigrants in Manhattan's Lower East Side. Kurtzberg would grow up into Jack Kirby, arguably the most legendary artist in the history of comic books whose influence has been felt for decades. On his 100th birthday, here's a quick celebration for the one and only Kirby, without whom comics and popular culture would look far different and way less colorful.
After dropping out of the the Pratt Institute in Brooklyn at the age of 14, Kirby — who went through a number of pen names before settling on "Jack Kirby," because it reminded him of screen actor James Cagney — began his career as a newspaper artist before landing a job at the legendary Fleischer Studios, where Kirby contributed to the Popeye cartoon serials. Describing the work as like a "factory," Kirby left and got into the booming comics industry through packager Eisner & Iger. Kirby then met Joe Simon while at publisher Fox Features Syndicate, which the two would leave for Timely Comics, which later evolved into Marvel Comics.
It was through Kirby's collaboration with Simon that he began his most prolific contributions to the medium. As World War II swept through Europe, Simon and Kirby created Captain America, who debuted punching out Adolf Hitler nine months before the U.S. formally entered the war. At 26, Jack Kirby was drafted into the U.S. Army, where he'd serve as a reconnaissance scout and infiltrated German-occupied towns and drew maps. Upon his return home, Kirby kept on drawing, which kept on building his legacy.
For his 100th birthday, here are five Jack Kirby creations that have arguably left the biggest impact on popular culture today.
5. The New Gods and Kirby's Fourth World
Kirby was more than just a talented artist: He was also a visionary who knew the future business of comic books. Anticipating the great change to come in publishing, Kirby innovated trade paperback formats when he had made the huge leap from Marvel to DC in 1970. In his thematically-linked Fourth World finite series, Kirby combined The Forever People, Mister Miracle, The New Gods, and Superman's Pal Jimmy Olsen (in an attempt to save the goofy but beloved title) with the intention of re-selling them in a collected volume after their run on the stands.
But Kirby's Fourth World was more than just smart business. It was also a damn good comic, which combined psychedelic science-fiction and epic drama infused with Biblical overtones. Kirby's Fourth World pushed blockbuster comics to its limits. Today Kirby's New Gods continue to reign supreme, as the Justice League movie lifts heavily from Kirby's influence.
4. Black Panther
Predating the Black Panther Party by six months, Stan Lee and Jack Kirby created Black Panther for an issue of Fantastic Four in 1966, thus creating the first black superhero in mainstream comics. Though Kirby and Lee, two Jewish writers from New York, probably didn't have the most nuanced view to create an advanced, isolated African nation, the integrity of the character was and is ironclad: T'Challa is a king, and Marvel has treated him as such ever since.
But it's more than just Black Panther. The groundwork for proper, dignified inclusion and ethnic diversity in comics was laid down through the introduction of Black Panther in the Marvel Universe.
3. The Incredible Hulk
Another Lee-Kirby creation, Kirby's illustrations of the Hulk is so quintessential Marvel that it'd be impossible to erase it from history. Kirby also laid down some of the finest sequential storytelling in his time on The Incredible Hulk: his images today are just as haunting and captivating as they were back then.
2. Captain America
It's unfortunate that the image of a star-spangled Captain America punching out Nazis is by any measure relevant, but the hope and strength Kirby and Simon imbued in Captain America is why he's still an icon in 2017.
1. X-Men
No group of characters sums up Marvel or the youthful energy of comics as a whole better than the X-Men. While Chris Claremont and John Byrne are responsible for the definitive version of Marvel's misfit mutants, Lee and Kirby provided the template with the original roster in 1963's The X-Men.
Essential sci-fi superheroism with heaping doses of social commentary, the X-Men are comics, and were the biggest thing throughout the '80s and '90s; it was the X-Men who helped keep Marvel alive during its bankruptcy in the late '90s, which in turn led to the ongoing superhero movie boom following the monumental popularity of 2000's X-Men. Seventeen years later, it's hard to say superheroes still aren't the biggest thing.