Marvel's Asian Hero Team-Up Includes Jimmy Woo's Return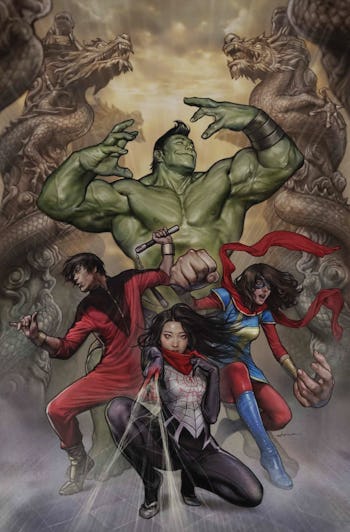 Twitter.com/gregpak
There's big trouble going down in the Big Apple, and the Asian heroes of the Marvel Universe will be called upon to save the day. Totally Awesome Hulk writer Greg Pak revealed on Twitter a new crossover that will pair Amadeus Cho, the new Hulk, with various Asian-American heroes from Marvel, including the triumphant return of Jimmy Woo.
Beginning with Totally Awesome Hulk #15 and running until issue #18, the arc "Big Apple Showdown" will have Amadeus learn to be a team player with Silk (Cindy Moon), Ms. Marvel (Kamala Khan), and Shang-Chi against an as-of-yet unnamed threat. The cover of issue #17, illustrated by South Korean artist Stonehouse, features Hulk with S.H.I.E.L.D. agents Jake Oh and Jimmy Woo, the latter one of the earliest non-stereotypical Asian comic book characters. Woo's last starring Marvel series was 2009's Agents of Atlas written by Jeff Parker.
Pak said the arc came from his own experiences attending film festivals, conventions, and late-night karaoke with his Asian-American colleagues. "I thought, hey, Asian-American superheroes would probably hang out like that every once in a while," he says. "What would they talk about? And how would that carry over into a big superhero adventure?"
Marvel has as of late introduced an influx of Asian and Asian-American heroes like Amadeus, Silk, Ms. Marvel, and Blindspot (the undocumented protege of Daredevil, who does not appear involved in the crossover). Pak noted that there would be a fun collision of generations with some of Marvel's older school heroes like Shang-Chi and Jimmy Woo. "I realized there could be a fun, multigenerational group to play with here," he said.
Check out Pak's tweets below with the cover reveals.
Totally Awesome Hulk #15 hits stores on January 25.