Marvel's New Hulk Is an Asian-American Teenager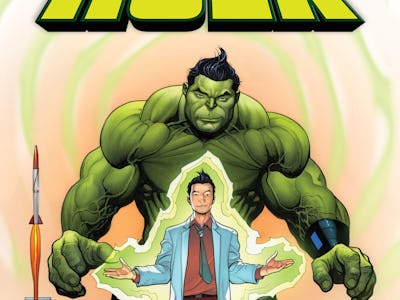 Marvel
As the Marvel Comics universe marches toward a new era this fall, the House of Ideas has continued their trend of inclusion and representation with a smash. The All-New, All-Different initiative has opened the doors for Amadeus Cho, Asian-American whiz kid, to become the new "Totally Awesome" Hulk.
In an exclusive with Entertainment Weekly, Marvel editor Alex Alonso and Totally Awesome Hulk's Korean-American creative team Frank Cho and Greg Pak discuss making Amadeus, a longtime Marvel sidekick, into his own full-fledged hero.
"He's 19 years old, he's on top of the world," says Pak to EW. "This is a kid who's got a ridiculous amount of confidence. A lot of it has been justly earned, but he may be in over his head, and he's going to come in here and he's determined to be the best Hulk there's ever been. He loves being the Hulk. And that may cause massive trouble for everyone else in the Marvel Universe."
I love that the series is reflecting Amadeus' character, who is so psychologically different from Banner. Since he became the Hulk as an adult, Banner treated Hulk as a burden, like Jekyll and Mr. Hyde. Amadeus, a teenager raging with hormones, is going to live it the hell up — hence the great Totally Awesome tag.
The whole thing is worth reading, but this quote from Alonso cuts to the All-New, All-Different's ethos:
Come December, arguably the strongest character in the Marvel Universe is going to be Asian-American. And I think that the only person who can dispute that is the female Thor, which I think says a lot about our line.
And yeah, my 11-year-old self is so happy right now.
The clowns in Sixteen Candles and Breakfast at Tiffany's are just jokes, but they leave lasting impressions that the audience takes with them when they exit the theater. From personal experience, the idea that Asian dudes are sexless, unattractive, and weak because of movies and TV haunted me growing up, no matter how much I tried to buck expectations.
I'm an adult. I've accepted I'll never be exposed to gamma radiation and become a ripped beast to save the day. But somewhere out there there's a little kid who will learn the confidence and self-appreciation he (and she!) deserves because finally, he's on a comic book, and he's the strongest one on the page.
Totally Awesome Hulk #1 hits shelves December.