John Oliver Robocalls FCC in Segment Devoted to the Scourge of Spam Calls
"Telecomm companies aren't going to listen to you unless you force them to."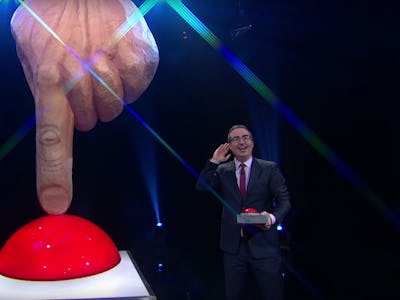 Last Week Tonight
John Oliver wants a solution to the epidemic of increasingly incessant robocalls and he's tired of asking nicely. The host spent the bulk of the main segment of Sunday's Last Week Tonight episode lambasting the Federal Communications Commission for being too slow in addressing the rising prevalence of robocalls, which soared to 48 billion instances in 2018. As is typical, Oliver capped the monologue with a stunt: setting up a robocall that targeted the FCC's five commissioners.
"Telecomm companies aren't going to listen to you unless you force them to," Oliver says, before pressing the massive red button that began an onslaught of prerecorded messages being sent to the commissioners. "It turns out robocall is so easy it only took our tech guy 15 minutes to work out how to do it."
The FCC didn't immediately respond to a request for comment about Oliver's stunt but we will update if we hear back.
Oliver's segment identifies two safeguards that, he says, have not been sufficiently encouraged by the FCC: free call blocking and call authentication. Both of the features have the potential to make robocalls much more difficult and expensive to operate and, in his defense, Pai and his commission have updated the rules regarding both policies as part of a pledge to "stop the scourge of illegal robocalls." So far, these efforts have included instituting a new 2017 rule allowing phone companies to proactively block calls from numbers that seem fake. Last November, Pai also called on telecom providers to begin offering call authentication by the end of 2019, a call he reiterated in February.
These efforts, however, have not been aggressive enough, Oliver argues, before presenting the following robocall which he says is now beamed to FCC phone lines every 90 minutes.
"Hi FCC.! This is John from customer service. Congratulations! You've just won a chance to lower robocalls in America today. Sorry, but I am a live person. Robocalls are incredibly annoying, and the person who can stop them is you! Talk to you again in 90 minutes. Here's some bagpipe music."
Is the FCC Sufficiently Cracking Down on Robocalls?
Oliver is not the only consumer advocate to voice concerns that the FCC, by not acting swiftly or harshly enough, may have helped accommodate the spam call epidemic. In fact, Chairman Pai has advocated for some changes that critics say could make the problem worse. In the past, for example, Pai has called for restricting the definition of what constitutes "autodialing." As the privacy-focused law firm Info Law Group has pointed out, restricting the definition for what constitutes an "autodial" would actually make it more difficult for consumers to take legal action against the companies doing the illegal calling.
Making it more difficult for consumers to bring claims against would-be spam callers would reduce the stakes for offenders even more than they already are. It's already anticipated that about 50 percent of the calls made to U.S. phone numbers in 2019 will be spam calls.
This isn't the first time Oliver has played a prank on the FCC either. In 2017, he called upon the internet to bombard the government agency with pro-net neutrality comments, a call which was so successful his followers eventually led the site to crash. Pai later voted to kill net neutrality anyway a few months later, but hope that the principle could be re-established remains: Congressional Democrats recently laid out a timeline for an aggressive plan to restore net neutrality.
Fortunately, a number of entities in the public and private sector have decided to take action without waiting for the FCC. Last November a bipartisan bill called the TRACED Act (short for Telephone Robocall Abuse Criminal Enforcement and Deterrence Act) was introduced to try and limit the extent of robocalls, and both Apple and Google have rolled out software features to make it easier to automatically detect and block fishy calls. A team of researchers at Purdue University also developed an app of their own they say could serve to detect spoofed phone numbers before consumers even answer.
It remains to be seen whether Oliver's prank can spur the FCC into taking more decisive action. The agency recently reported that its top consumer complaints all involve unwanted calls and spoofed numbers. But for now, the the burden for fighting against spam calls will remain largely on consumers and smartphone makers.
Cue the bagpipe music.