The Marvel Universe Is Over on Netflix and 'Apex Legends' Is About to Get Crowded
The third season of Jessica Jones will be the last hurrah for the franchise.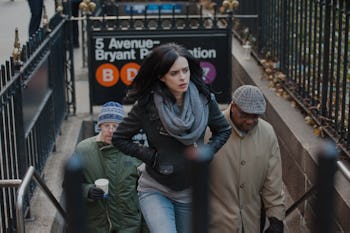 Netflix
Netflix dusts its entire Marvel Universe … potential Fortnite-killer Apex Legends may get a whopping 10 new playable characters … and the creators of The Dragon Prince have a "clear vision" for Season 3.
I'm Eric Francisco, senior entertainment staff writer at Inverse, and this is Multiverse.
This is an adapted version of our Multiverse newsletter, a twice-weekly digest of our essential stories from the geek galaxy. Sign up for free here.
Marvel Netflix No More
The Marvel Universe is over on Netflix, as the streaming giant officially canceled The Punisher and Jessica Jones on Monday. The upcoming third season of Jessica Jones will be the last hurrah for the franchise.
Marvel TV President Jeph Loeb penned a letter thanking the hundreds of cast and crew who worked on all the shows, from Daredevil onwards, and the fans for watching. Loeb also teased that the characters will return in the distant future, but in what capacity remains to be seen.
"Our Network partner may have decided they no longer want to continue telling the tales of these great characters," writes Loeb, "but you know Marvel better than that. As Matthew Murdock's Dad once said, 'The measure of a man is not how he gets knocked to the mat, it's how he gets back up.'"
He ended the letter with three words: "To be continued."
What's Next: The third and final season of Marvel's Jessica Jones will stream on Netflix later this year. After that, all the Marvel/Netflix shows will remain available to stream until Disney decides otherwise.
Read more about the Marvel/Netflix Universe:
Apex Legends Is About to Get Crowded
An influx of new playable characters may soon arrive in Apex Legends. Over the weekend, data miners shared a peek into the game's code on Twitter and found multiple references to new Legends with names like "Wattson" and "Octane" and intriguing new special abilities. Eight more names were found who may also be Legends, but no one outside Respawn knows for sure. I'm told breaking into Respawn's offices and demanding answers is "illegal."
Whether or not these new Legends are for real, it'll probably be a bit until they're added to the game. Read more.
How Bruce Lee Inspired Alita: Battle Angel
Bruce Lee influenced the crazy fighting style of Alita: Battle Angel. We spoke with director Robert Rodriguez and star Rosa Salazar on how the martial arts icon was "ever present" throughout the making of the film, including Salazar's physical training and in producer James Cameron's writing process. Read more.
Anthem's Day 1 Patch Brings Major Improvements
BioWare's Anthem will have a Day One patch, meaning gamers will have to download an update upon booting up the game for the first time on February 22. The update will apparently fix a lot of issues players with early access to the game have experienced. Read more.
Stranger Things Season 3 Finale Will Be "a Lot"
The finale to Stranger Things Season 3 will blow minds, according to "Will Byers" actor Noah Schnapp. At a recent convention appearance in Paris, Schnapp teased that the finale will be "a lot" and "a very good ending." While the season doesn't premiere on Netflix until July, anticipation is already building up for the next season of scares. Read more.
The Dragon Prince Creators Have Dragon Vision
The creators of Netflix's The Dragon Prince have a "clear vision" for Season 3, they tell Inverse. In our interview with Aaron Ehasz and Justin Richmond, we learned that the series is in its stage of "Rocky IV where he's running up the mountain." Hopefully the creators can avoid Rocky V and go straight to Creed. Read more.
Loki's TV Show Gets a Rick and Morty Writer to Break History
Rick and Morty writer Michael Waldron is overseeing Marvel's Loki series on Disney+. The show, starring Tom Hiddleston in his popular role, will apparently follow the anti-hero as he accidentally shapes the course of human history. Read more.
Mad Max Comes to Life at Fighting Game Tournaments
Kotaku reports that water is becoming a commodity at fighting game esports tournaments. The recent Dragon Ball FighterZ World Tour Finals prohibited water from outside the venue, and bottles are sold at a high markup. Meanwhile, energy drinks tend to be available practically everywhere. Read more.
Voice Actors on Vic Mignogna
io9 has interviewed 25 working voice actors about prominent anime and video game voice actor Vic Mignogna, who has been accused of sexual harassment. There are multiple allegations from other professionals and convention attendees against Mignogna, and several came forward to io9 about their accounts. Read more.
DCeased Zombifies the DC Universe
IGN has revealed that zombies are invading the DC Universe. Tom Taylor, of DC's Injustice and Justice League/Power Rangers, is writing the first major DC crossover of 2019, DCeased. Set in a parallel universe, the DCU is overrun by flesh-eating zombies. Rick and Michonne are nowhere to be found, but at least there's Batman. Read more.
What's Next
BioWare's new sci-fi RPG shooter Anthem is finally available for PC and consoles on Thursday. On Friday, the story of former WWE star Paige hits the big screen in Fighting With My Family, directed by Stephen Merchant. Black Panther is one of a few movies up for Best Picture at this Sunday's Academy Awards ceremony.
What did you think of Alita: Battle Angel? Does Hollywood finally have the first good anime/manga adaptation in Robert Rodriguez's newest movie? Or does 2008's Speed Racer maintain supremacy? Send us an email at eric@inverse.com.