A Noted Pixel 3 Leaker Says Samsung Galaxy S10 May Ship With AirPods Clone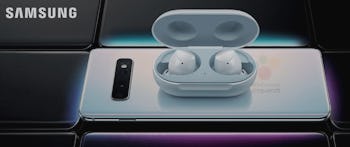 WinFuture
Samsung's upcoming line of Galaxy S10 smartphones is already expected to one-up Apple's famed notch with its pinhole display. But the Korean tech giant might have another ace up its sleeve to lure even more customers away from its competitor.
Renders of these so-called "Galaxy Buds" were leaked by the German blog WinFuture on Wednesday, and they look identical to the AirPods. A subsequent tip from 16-year-old mobile leaker Ishan Agarwal, who successfully leaked the Google Pixel 3 last year, suggests the Galaxy Buds could come free with a pre-ordered S10 device in certain countries. That's a deal that Apple has never offered for the AirPods.
As many as four S10 handsets could debut at Samsung's Unpacked events in San Francisco and London on February 20. Agarwal anticipates that pre-orders will begin the day of the launch, and will last as late as March 8. During that time, customers might be able to pre-order one of the smartphones — that could start at $900 — and get to try out these new Galaxy Buds free of charge.
Galaxy Buds Features
The leaked images depict white buds inside of an oval, wireless charging case placed on top of a S10 device. That suggests that the smartphone could serve as a wireless charging mat for the Galaxy Buds. WinFuture claimed they would cost 149 euros (roughly $169), which is only $10 more expensive than the AirPods.
If the Galaxy Buds renders prove to be true they could give the AirPods a run for their money. Apple teased a wireless charging case for the AirPods in 2017, but has yet to make good on the product. Based on these leaks it looks like Samsung may have beat them to the punch.
The AirPods have ballooned in popularity since their launch in 2016, which has led to countless alternatives. It makes sense that Samsung would try and capitalize on the growing interest in wearable tech.
Plus, since Apple has yet to launch the AirPods 2, the Galaxy Buds could appeal to customers that want fresh product and don't want to wait for the Cupertino-based company's eventual refresh. The pressure on Apple to roll out it's much anticipated follow-up is on.