This Is the One Item You Don't Want to Wait Until Cyber Monday to Buy
The Avantree True Wireless Earbuds are already a deal worth snapping up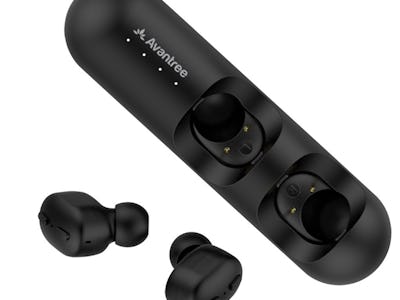 One thing we expected from Apple's event last September was any news on updated AirPods. Now nearly two years old, the company's "true wireless" earbuds aren't quite the miracle products they once were, with a lot of more sound-focused technology companies coming out with competitors of their own. Apple is falling behind at their own game, and there are cheaper options out there with just as much functionality at much, much better prices.
None better than the Avantree True Wireless Earbuds, a deal so good that even with the shopping holidays coming up, you'll want to snap it up right this second.
The earbuds are low-profile and sleek, and come with their own charging case that carries 18 extra hours of playtime. The latest Bluetooth 5.0 technology is incorporated, too, meaning a better listening experience with much less interference. They're are sweat proof. Something the AirPods can only dream of.
The Avantree Earbuds are the headphones of the future, and you can get them for less than $50 right now.