MWC 2019: All of the 5G Phones Expected to Launch at the Smartphone Event
A new dawn for smartphone is almost here.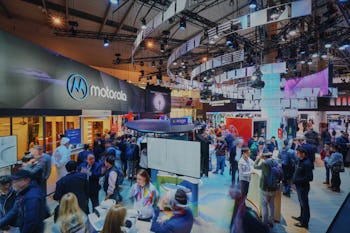 Flickr / lenovophotolibrary
After years of hearing about the break-neck browsing speeds, mobile gaming improvements, and autonomous driving advancements that 5G wireless connectivity will usher in, we should finally begin seeing the new browsing standard in action during this month's 2019 Mobile World Developer's Conference. The annual smartphone trade show kicks off February 24 in Barcelona, and a duo of 5G-enabled phones are already said to be dropping.
Mobile carriers across the United States have already begun rolling out 5G networks, with T-Mobile saying nationwide coverage will be possible by 2020. But in order to test drive the future of wireless browsing, your smartphone will need to pack a modem that specifically supports the broadband technology, like the Qualcomm Snapdragon X50. But thanks to a couple of big-name smartphone makers, 5G-enabled hardware could be unveiled within the next couple weeks.
Both LG and Huawei are expected to unveil 5G smartphones at the trade show, one of which was even teased to be a foldable phone. Here's what the dawn of the new age of mobile tech will look like.
MWC 2019: LG V50 ThinQ 5G
The Korean smartphone maker has a big year ahead of it. Multiple leaks so far have indicated that it plans to release a foldable phone which unfurls like a scroll, as well as a device that supports gesture controls. It also may release a 5G-capable follow-up to its multi-lens, V40 ThinQ flagship that it launched in October of last year.
Korean news site, ET News reported that the company would launch its first 5G phone in February with some beastly specs, touting a 6-inch display, 4,000mAh battery, and a Snapdragon 855 chipset.
The report didn't specifically mention whether LG would launch the device at MWC, but it's the only press event the company has scheduled for February, so if it's dropping it this month, it'll likely be there.
MWC 2019: Huawei
The Chinese mobile giant might try to one-up all of its competition by announcing a 5G-enabled foldable phone at the conference. It confirmed it would be launching this potentially game-changing device during a company event devoted to its plans for 5G in January and it also tweeted a teaser image of the phone on February 1.
Little is known about the device's specs or design, other than that it'll come with Huawei's proprietary Balong 5000 5G modem. The device could revolutionize mobile gaming by giving users access to a tablet-sized screen and blazing fast wireless internet, to play online games like Fortnite on the go.
This phone will likely be slightly tough to come by in the United States. National security concerns over Huawei have led to the scrapping of deals between the smartphone maker and mobile carriers, like Verizon. To get an early look at Huawei's foldable smartphone concept, you'll need to get your hands on an international model which you then jail-break.