FCC Commissioner: "They Should Be Branding 5G the 'Fortnite' Network"
Forget about relying on wifi.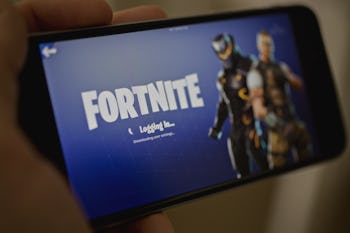 Flickr / steamXO
Mobile browsing has come a long way, but cruising the web without a wifi signal is an experience that leaves a lot to be desired, as anyone who's tried to play Fortnite Mobile using their data plan has realized.
In an interview with Inverse, FCC Commissioner Brendan Carr explains how the fifth generation of wireless broadband technology — known as 5G — will essentially eliminate the need to be connected to wifi. It's a shift just over the horizon that has massive ramifications for information accessibility, telecoms, tele-health, and, naturally, the world's most popular battle royale video game.
"They should be branding it as '5G, The Fortnite Network," Carr says.
By now, we've all grown accustomed to seeing that LTE or 4G symbol next to the reception bar at the top corner of our phones while scrolling through Instagram or Reddit. But Carr has made it his goal to begin turning that tiny icon into 5G over the next two years. This would usher in a new era of lightning-fast mobile gaming, streaming, and download speeds, no wifi required.
Carr was in college in during the console heyday, when games like 1999's Tony Hawk's Pro Skater ruled, but since that time mobile gaming has grown rapidly. With 5G, the current suboptimal experience of squadding up to play Fortnite: Battle Royale on one's phone looks to be replaced by something much faster.
How Does 5G Work?
A 5G network will require all wireless carriers to update infrastructure — antenna networks and more — to enable the high-frequency signal. With 4G, you need less antennas and obstacles don't matter as much, with 5G, there will need to be a lot more antennas for the network to work because the high-frequency signal that enables super-fast speeds is more easily disrupted. (T-Mobile recently agreed to a $3.5 billion deal with Nokia so Nokia could provide a 5G tech to the wireless phone carrier.)
"There's an aspect of 5G that is going to be taking what you're doing today on your phone and making it a lot better," he explains. "It's supposed to be up to a thousand times faster [and] five times more responsive so you can download movies in seconds rather than minutes."
See also: Motorola Unveils Moto Z3 the First Flagship Capable of 5G Wireless Browsing
According to a recent OpenSignal report, "State of LTE," the average 4G download speed in the United States was 16.31 megabits per second (Mbps) in the fourth-quarter of 2017. That's a snail's pace compared to Singapore's 44.31 megabytes per second. 5G will close the gap and then some, theoretically upping the ante to speeds of 10 gigabits per second.
Certain Fortnite updates have been over 1GB, and file sizes that large would take hours and would prove difficult to download without unlimited data plans. But at 10 gbps, this sizable patch could be download in a minute and a half. This gives users the speed of wired, fiber-optic internet connections — minus the cords.
"You're essentially getting a fiber-like experience wirelessly," Carr says. "What that means among other things, think about places where there's either one wired fiber broadband provider right now — or none because it's too costly to go there in the first place — or it's too costly to attempt to overbuild somebody. Now you can cover that area and introduce fiber-like, wire-like broadband option that wasn't there before."
Besides chasing a "Victory Royale," wireless speeds of this caliber can enable Netflix streaming like never before, high-quality video conferencing when you're late to an business meeting, and instant access to pretty much all the online content you would ever want.
Look for more from our interview with FCC Commissioner Brendan Carr in the following days.
Related video: Squad Up is the Inverse talk show that takes place entirely inside Fortnite. Follow us on Twitch!