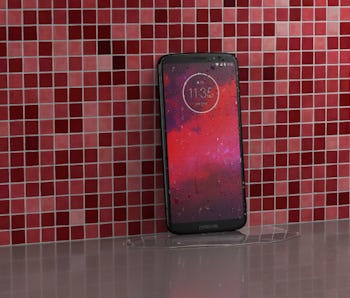 Innovation
Motorola Unveils Moto Z3 the First Flagship Capable of 5G Wireless Browsing 
It'll be available August 16.
Motorola
During an elaborate Thursday press event at its Chicago headquarters featuring trolly rides and a blue grass show, Motorola expanded its line of next-generation smartphones by taking the curtains off of the Moto Z3. This will succeed the Moto Z3 Play announced on June 6 and will be available exclusively at Verizon on August 16 for $480.
This is a continuation of Lenovo-owned company's Moto Z family, which allows magnetically attached case accessories, like camera lenses, to improve the phones' functionality. While the Moto Z3 might look almost identical to the Z3 Play, it has a notable distinguishing factor: It will support 5G network browsing with its "5G Moto Mod".
Today, all cellular carriers provide 4G LTE wireless and it seems that Verizon is trying to be the first one out of the gate to give users 5G support. But just like your cell phone contract, there's a catch.
5G Moto Mod: 5G Browsing Almost Here
While Verizon's Chief Network Engineering Officer Nicola Palmer was onsite to hype up the future of 5G, it still isn't here yet. According to on-the-scene reports, the cellular company is still testing 5G and promised it would go live in Los Angeles, Houston, Sacramento, and a fourth unnamed location by the end of this year.
Once these networks are live, Moto Z3 users will receive an attachment for the back of the phone that they can use to switch to 5G. Think of this phone as a sort of pre-sale ticket to hop on the 5G train quickly and seamlessly once it's available.
According to tech journalist Eric Zeman who attended the event, 5G Moto Mod will only be available for compatible phones sold by Verizon. All unlocked phones are out of luck.
Moto Z3: What It Looks Like
Aside from the browsing capabilities that are to come, the phone also has a 6-inch AMOLED display, a 16-megapixel dual rear camera, and an 8-megapixel front camera.
Like most Android phones it'll have a USB-C charging jack and like its iPhone counterparts it will not come with a headphone jack.
Moto Z3: Under the Hood
The insides of this new release are slightly underwhelming. It comes retrofitted with a Qualcomm Snapdragon 835 processor. This is the same chip that the 2017 Samsung Galaxy S8 uses, while this year's S9 includes the Snapdragon 845. This means the Z3 may underperform compared to some of the other phones released this year.
It's clear that the major selling point for this phone is its ability to swiftly upgrade to 5G, but it's unclear if that will be live by the time the phone ships on August 16.
Until then, even Moto Z3 users will need to patiently wait for faster browsing speeds.