Motorola One vs. iPhone X: What to Know Ahead of Motorola's Big Announcement
They might actually be pretty similar.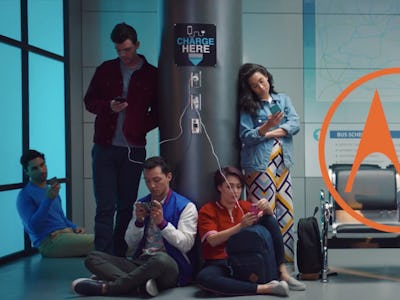 Motorola
Only days before Motorola's August 2 "big announcement", renders and specs for one of its upcoming phones have appeared on the website of the Chinese certification agency — TENAA. And at first glance, it looks noticeably similar to Apple's iPhone X.
There has been chatter as to whether this so-called Motorola One, or its variant the Motorola One Power will be launched on August 2. If that does prove to be the case, the company could be aiming to convert loyal iPhone X users who remain enamored with its aesthetics.
While it's certainly possible the Lenovo subsidiary might drop the Motorola One during its announcement, it seems more likely the Moto Z3 Force will make an appearance. This is based on the assumption that the company will mirror its prior cycle for its flagship phone, when it released the Z2 Play and the Z2 Force in June and August 2017 respectively (the Moto Z3 Play rolled out in May).
Even if this leaked phone doesn't launch in August — some rumors have also suggested the announcement will pertain to new mobile browsing capabilities — it seems that Motorola is drafting a plan to coax Apple users their way.
Motorola One vs. iPhone X: Kick It Up a Notch
Back in June TechInfoBit, claimed to have obtained a prototype of the Motorola One and said that it was the first-ever Motorola with an iPhone X-style notch.
The TENAA filing furthered these claims by depicting a 6.18-inch notched FHD+ LCD display. Notched screens seem to be en vogue ever since the iPhone X launched, the next Google Pixel might feature one as well. But there will be one big difference between the Motorola One's display and that of the iPhone X.
The filing states that the screen will be an LCD, not OLED like Apple's handset. The latter makes for a brighter, more vivid screen.
Motorola One vs. iPhone X: Double the Camera
And guess what's lurking on the phone's back panel? Two cameras positioned vertically, just like the iPhone X. But the difference, according to the filing, is that the Motorola One's cameras will be capable of taking better pictures.
The phone packs a 16-megapixel rear-camera, while the iPhone X comes in at 12 megapixels. In fact, Motorola's front-facing camera is also said to be higher caliber at 12 megapixels to the iPhone X's 7 megapixels.
It's important to note that the Motorola One is one generation ahead of the iPhone X. So expect Apple's 2018 release to come with some souped-up cameras as well.
Motorola One vs. iPhone X: Under the Hood
Finally, while TENAA didn't elaborate on the specific hardware the Motorola One will come with, it provided speed estimates. It's CPU speeds will max at at 1.8GHz, compared to the iPhone X's 2.39GHz.
Both phones also have some pretty similar battery capacity, with the Motorola boasting 2820mAH over Apple's 2716mAH.
So if you're looking for a non-Apple smartphone capable of taking some high-quality pictures the Motorola One might be the one for you. But that all hinges on Motorola announcing it on August 2.