3 Reddit Theories About Motorola's "Big Announcement" This Week
It's like the holidays for smartphone fans.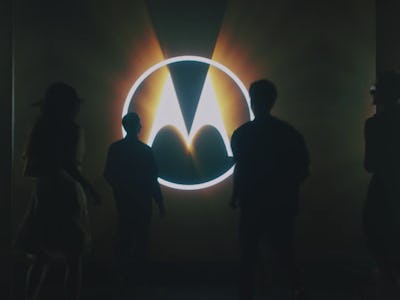 Motorola
The first of many of 2018's big smartphone launch events may be going down on August 2 in Illinois. Late in June, Motorola announced that it would be revealing something new at its Chicago headquarters at 2 p.m. local time.
That's according to an unlisted video the company posted to their Motorola US YouTube channel on June 28 titled, "Hello Chicago: August 2." The 11-second clip has no audio and simply states the time and location of the event. The video's description offered few details but has helped drum up a lot of hype.
"Mark your calendar. On August 2, we're making a big announcement at Motorola's HQ in Chicago," the advertisement says. "Say 'hello' to a whole new way to connect, stream, download, video chat, and more."
All of this mystery naturally prompted the smartphone fanatics of Reddit to theorize what exactly Motorola has up its sleeve. The consensus has primarily revolved around two rumored phone models that have been leaked recently or, potentially, a new mobile communications standard.
1. Motorola Announcement: Moto Z3 Force
Earlier this summer, Motorola launched the Moto Z3 Play, the first model of its next-generation smartphones for 2018. In 2017, the company released the Moto Z2 Play and the Moto Z2 Force in June and August respectively. That pattern would put a new flagship phone on the docket for this week, possibly named the Moto Z3 Force.
"Moto Z2 Force is their latest flagship, in August they will announce Moto Z3," writes redditor JBrendon98.
This seems like the most likely of occurrences, as Motorola has offered its "Force" the same way Apple releases "Plus" versions of its phones. The Z2 Force had a more powerful processor than the Z2 Play and was a little pricier.
2. Motorola Announcement: Motorola One Power
Aside from its regular cycle of phone releases, there has also been chatter that the company could be launching a midrange handset dubbed the Motorola One Power.
According to a leak from an anonymous source obtained by AndroidHeadlines, the One Power will run Android One software. Two subsequent leaks stated that it might also come with a pretty hefty battery too. Techienize claimed to have obtained a specs list that stated the phone would have a 3789mAh battery, while a filing to the Chinese certification agency — TENAA — stated it would have a 4850mAh battery.
Both AndroidHeadlines and TENAA provided renders of the rumored phone, revealing that it might also come with what seems to be an iPhone X-style notch.
3. Motorola Announcement: 5G Browsing Mode
Finally, Motorola fans are pretty certain the company is cooking up a "5G Moto Mode" that would serve to one-up the current 4G LTE wireless technology. But they aren't exactly sure if August 2 will be when it will be released.
"They are talking about the 5G mod, maybe the one will have 5G? I doubt it but the mod makes the most sense," says Reddit-user Traina26.
The description of Motorola's announcement video suggests the announcement could be more than just a smartphone, it could be some cutting edge internet browsing tech.
On the other hand, the bar for making a splash in today's news cycle climbs by the hour. There's always a chance that whatever Motorola is planning could leave fans feeling underwhelmed.