Does Samsung Think Motorola Razr-Like Flip Phones Will Beat The iPhone?
A new report suggests Samsung has some tricks folded up its sleeve.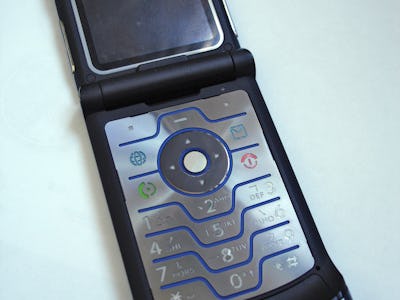 Peterwhy/Wikimedia
What's old is new again, except when it comes to tech. Samsung, apparently, didn't get that memo, since a new report published Tuesday suggests that the world's largest smartphone maker is planning to release a flip phone. Two bendy-screen phones are in the works under the codename "Project Valley," one that has a 5-inch screen that opens up into an 8-inch display, and another that folds in half like the Motorola Razrs of yesteryear.
Samsung may hold the lion's share of the smartphone market in terms of units sold, but Apple storms ahead when it comes to share of smartphone industry profits. Samsung needs something to claw back cash in an industry where it's incredibly hard to make money, but returning to a retro phone design is an interesting way of trying to achieve that, to say the least.
"This product could be a game-changer if Samsung successfully comes up with a user interface suitable for bendable screens," Lee Seung Woo, an analyst at IBK Securities, told Bloomberg. "Next year is a probable scenario. Their biggest obstacle was related to making transparent plastics and making them durable, which seems resolved by now."
It's an idea Samsung has been publicly discussing for some time now. The company released a concept video back in 2013 that showed how a modern flip phone might look. A guy in a coffee ship tries to impress a woman with a tablet that can't fold, which is clearly unimpressive. Ignoring the fact that his friends don't like him, he's arrogant and overall pretty unlikeable, his tablet doesn't fold so clearly it was all a bit of a non-starter. The second guy, though, has a folding tablet. Say no more.
To Samsung's credit, the flip phone concept does sound cool. Being able to unfold a phone into a bigger phone is a neat idea, and could help solve the problem of phones that are now too big to fit inside people's pockets. So yes, the idea makes some sense, but it still harkens back to the heady days of 2005 when everyone had a Razr, TRL was relevant, the Pussycat Dolls were making waves, and Billboard was handing out awards for dubious categories like "ringtone of the year."
Samsung could be onto a winner if it is able to perfect the display technology needed. In all fairness, the Razr was never a bad design, it just made more sense in the internet-connected age of the iPhone to have a single, large display able to show lots of information. If Samsung can put the same high-quality, uninterrupted display in a foldable design, maybe the flip phone could make a return. As David Brent from the U.K. version of "The Office" once said, "a good idea is a good idea forever."