'Marvelous Mrs. Maisel' Season 3 Release Date, Cast, Plot, Renewal and More
Everything we know so far (and some educated guesses).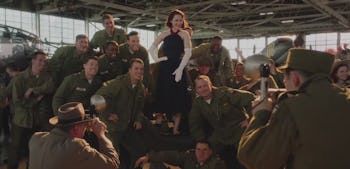 Amazon
The Marvelous Mrs. Maisel's globe-spanning second season released on Amazon in December 2018, and it seems the beloved series will return almost exactly one year later. Mrs. Maisel Season 3 got a Season 3 trailer (above) and an official release date (below) in an August announcement, but we've still got a painfully long wait until the show returns.
In the meantime, here's everything we know about Marvelous Mrs. Maisel Season 3, along with some healthy speculation over where the plot might be headed.
Is The Marvelous Mrs. Maisel Renewed for Season 3?
Yes! Amazon originally signed a two-season contract and renewed the series for Season 3 back in May 2018 before Season 2 even aired (and before it racked up a bunch of wins at the Emmys). So you can rest assured that Midge Maisel will return, but exactly when that might be is a bit of a mystery.
What's the Release Date for The Marvelous Mrs. Maisel Season 3?
December 6, 2019! Mark your calendar and place an order with your local kosher butcher now.
What Time Will The Marvelous Mrs. Maisel Start Streaming on Amazon?
Unlike Netflix, which releases to content at 12 a.m. Pacific time (that's 3 a.m. Eastern), Amazon does everyone on the East coast a solid by releasing new videos at midnight Eastern time, according to the company's website. So you can expect the new season to appear on Amazon's streaming service at that time on whatever date it's released.
Is Season 3 the Final Season of The Marvelous Mrs. Maisel?
We can't say for sure, but the answer is probably (thankfully) no. Amazon hasn't renewed the show past Season 3, but considering its popularity we'd be surprised to see it canceled anytime soon. Additionally, series creator Amy-Sherman Palladino revealed back in 2017 that she has plans for at least a couple more seasons in an interview with The Hollywood Reporter.
"I think we know what our trajectory is for the first four to five seasons," she said. "And then I just want to see if I'm still breathing at that point. If I am, then we'll continue."
So there you have it. Mrs. Maisel forever!
What Will Happen in The Marvelous Mrs. Maisel Season 3?
The Season 3 trailer shows Mrs. Maisel going on the road as the opening act for a big comic, which her ex-ex-husband seems totally fine with. We also know she'll spend some time in Florida with her old manage, Susie. Of course, we'll also check-in with Midge's parents: Abe and Rose. Oh, and as the trailer reveals, Midge will also perform at a U.S.O. show.
Beyond that, we're just speculating, but we do have a few guesses at where the series could be headed. Warning: Spoilers for Season 2 ahead.
The biggest thing that happened at the end of Season 2 was Midge (Rachel Brosnahan) accepting an offer to go on a six-month tour as the opening act for a major music star. It's a life-changing career move that will also totally upend her life, including her presumed engagement to Benjamin (Zachary Levi) — so we can probably assume that entire Season 2 plotline is finished. As for the children she'll leave behind, they've never really been a priority for Midge and that's unlikely to change in Season 3 as she sets out on tour.
Meanwhile, Joel Maisel (Michael Zegen) ends the season in an even more uncertain position than his wife (still married, but mostly separated). Joel's father is trying to kick him out of the family business and he's agonizing over his decision to cheat on Midge a year earlier. As the season ends they reconnect for one night, but if we had to guess we'd say that the show's four- or five-season arc will eventually bring them back together.
Perhaps most interestingly, Abe Weissman (Tony Shalhoub) has had his career totally upended in what appears to be a mid-life crisis in the making. After losing his position at Bell Labs and threatening to give up his tenured spot at Columbia University, he seeks out a lawyer and prepares to stick it to the man like he did back in his more youthful days. Season 3 could see Abe taking to the streets in protest and hanging out with beatniks as the '60s rapidly approaches. We just wonder how his wife Rose (Marin Hinkle) will respond.
Finally, Midge's manager Susie Myerson (Alex Borstein) may make a huge career move by accepting an offer to manage the comedy superstar Sophie Lennon (Jane Lynch). With Midge on tour it's a logical next step for Susie's own career, and if it means we get more of Jane Lynch in Season 3 well then so be it.
The Marvelous Mrs. Maisel Seasons 1 and 2 are streaming now on Amazon. Season 3 is expected in late 2019.