Apple Might Release a New iPhone Accessory Before 2018 Is Over
Could this be its last drop?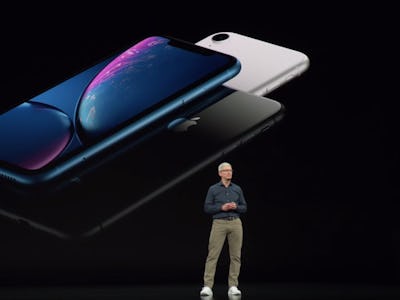 Apple
Traditionally, Apple releases iPhone cases along with the yearly release of its flagship handsets. And true to form, the tech giant has already released a clear case for its iPhone XR to let customers show off its colorful back panel. But now there's good reason to believe that the company is gearing up to release a new, proprietary battery case before 2018 is over.
The rumored accessory could be a follow up to the Smart Battery case released three years ago for the iPhone 6, 6S, and 7. On Friday, iOS developer and 9to5Mac reporter Guilherme Rambo obtained a picture of the alleged device. Rambo did not state how he acquired the image but it matches icons the publication unearthed in the watchOS 5.1.2 update that reportedly hinted at a new case. The report stated that there will be three different models of the case, which likely refers to one for the iPhone XS, XS Max, and XR.
Read More: We Tested Out Mujjo's iPhone Leather Wallet Case For a Week
While the end of 2018 is rapidly approaching, there's still a chance that Apple will launch this case before the year is up. The previous generation of Smart Battery Cases were released in December 2015 and even the AirPods were even launched in December 2016. But while it's clear that there's plenty of precedent for these end-of-year accessories launches, this new smart battery case could carry a quite the price tag.
Currently, the iPhone 7 Smart Battery Case costs $99. That comes with a 1,877mAh battery, which is supposed to increase its browsing on LTE time to up to 22 hours. Similar cases can be picked up for half the price online. Apple will almost certainly price their new case higher than the older version, which would take it over $100. But it could pack more battery life.
The leaked images depict a notably bigger batter bump on the back of the case. This could mean it'll pack more than a 1,877mAh battery upon release. The iPhone XS has been tested to have roughly 26 hours of battery life, a newly improved battery case could bring this close to 30 hours.
An improved battery case could make Apple's latest smartphones battery powerhouses. The company might also be able to capitalize on late holiday shopping if they release the case soon.