Apple iPhone XR: Official Price, Specs, and Preorder Guide
The iPhone 5c's second wind.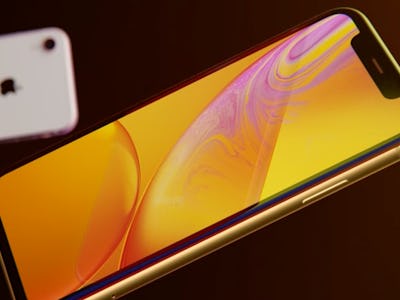 Where the iPhone XS and XS Max bring brilliant displays and a new age of processing power, the iPhone Xr introduces unique color options. The 6.1-inch LCD handset fuses the notched-screen and Face ID features that set the iPhone X apart and breathes new life into the rainbow color palette that the 2015 iPhone 5c brought to market. It will start at $749 and it will ship by October 26.
"It's going to make a lot of customers really happy," said Phil Schiller, Apple's SVP for global marketing, before touting the new colors, specs, and luxurious aluminum backing. "This is a huge day for iPhone."
The Xr is the cheapest option among this year's lineup, but it shouldn't be underestimated. While Apple gave it an LCD, liquid retina display, instead of OLED, to reduce its cost it still provides 0.3 more inches of screen real-estate that the iPhone X. Just like its predecessor, the devices will ship with a maximum of 256-gigabytes of storage space and come with the same A12 Bionic chip as the iPhone XS Max.
The device's color variants and its price point compared to the XS and XS Max is where it will stand out among this year's releases. It will be available in black, white, red, yellow, coral and blue; this will be the first time Apple releases a red option before the yearly Product (RED) iPhones.
While the Xr was announced alongside the the XS and XS Max on Wednesday, iPhone fans will have to wait a little longer to get their hands on this vibrantly colored devices. Pre-order availability is scheduled to begin on October 10 and the official release date is slated for October 16.
Apple iPhone Xr: A Closer Look Under the Hood
Somewhat surprisingly, Apple has included its latest A12 Bionic chip, the first 7-nanometer chip on the market, which is expected to lead to a huge performance upgrade. It's also capable of optical image stabilization, so it will still take pretty good photos, with portrait mode and smart HDR capability as well. Apple claims this chip is about 30 faster percent faster its the iPhone X.
The Xr's LCD screen will be less demanding on the battery than that on an OLED display and the A12 comes with a more efficient design than the prior 10-nanometer A11 chip inside of the iPhone 8, 8 Plus, and X. Both of these features working together should give the Xr an hour and a half more battery life compared to the iPhone X.
Apple iPhone Xr: How to Pre-Order on Your Current iPhone
If you want to be one of the first to have the Xr, make sure you're ready to go come October 16.
Navigate to the App Store and download the Apple Store f you don't already have it.
Browse through all of this year's models and select which one you want. Customize it according to sport your favorite color and the amount of storage space you want.
Tap the heart button to save your selection so you can just hit purchase when pre-order day rolls around.
If both of these methods fall through, then you'll have to take to the streets and line up at the Apple Store. Not the most ideal, but diehard Apple fans have camped out for days to be the first to get their hands on the new iPhones. Expect something similar this year.
More headlines from the Apple 2018 iPhone Announcement: