Seven Days With Mujjo's Gorgeous Leather Wallet Case for iPhone
Perfect for iPhone XS users.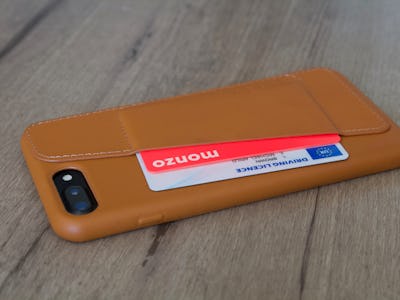 Mike Brown/Inverse
Apple's leather cases have some stiff competition. Dutch design firm Mujjo has rolled out its latest cases for iPhone XS, XS Max and XR, providing a strong alternative to the smartphone maker's official cases. The Mujjo range also offers a wallet on the rear of the device, allowing you to store those couple of cards you need to carry and potentially replace your wallet.
I went hands-on with the wallet for 7 Plus, but the company tells me that it uses the same materials for the newest smartphone range. Mujjo offers iPhone XS and XR leather cases for $44.90 and wallet cases for $49.90, while the XS Max leather cases cost $49.90 and wallet cases $54.90. The XS cases come in tan, black, gray and olive, while the XS Max and XR cases drop the gray color from the lineup. For comparison's sake, Apple's leather cases cost $49 for both XS and XS Max, and come in eight colors. Apple's leather folio case, meanwhile, costs $99 for the XS and $129 for the XS Max, shipping in six colors.
Apple's own-branded cases have a large fan community on Reddit, with numerous threads praising the patina effect after months of use. I bought my case around 10 months ago, so the Mujjo was never going to achieve the same effect in the time that I've reviewed it. Cult of Mac notes an excellent patina on the Mujjo cases though. As a full convert to leather cases, I was excited to try.
Product: Mujjo Leather Wallet Case for iPhone 8 Plus / 7 Plus - Tan
Price: $52.53
Perfect For: iPhone users considering Apple's leather case
Mujjo Leather Wallet Case: Day One
The case is gorgeous. When you first flip open the box, you'll see the case hidden behind a plastic shield, with a small opening to touch the leather. Inside the wallet is a certificate of authenticity printed with an eight-digit number, which states that the product "has been subjected to quality control," and that "due to the nature of this handiwork, irregularities may occur" but "this makes each and every sleeve unique."
The interior is fitted with a Japanese microfiber to protect the phone, while the leather itself is vegetable tanned. Mujjo notes that each wallet is unique as it's a natural product, and it will acquire its own unique patina over time.
It's rather stiff to fit first time, but in my experience leather cases loosen up a touch over time. It's tough to fit two cards into the pocket at once. The company tells Inverse that it recommends fitting no more than two or three cards in the rear pocket, but as the leather stretches over time, it's best to use two to start and move to three after it's worn in a bit.
Mujjo Leather Wallet Case: Day Two
Today I'm going to see Franz Ferdinand perform live in north London. I'm a bit apprehensive, because if I lose my phone, I've also lost my bank card and driving licence.
It turns out that's not my biggest concern with the Mujjo. I try using the bank card inside the wallet to enter the London Underground station by waving over the scanner, but the scanner clashes with Apple Pay and beeps out an error. I have to pull the card out of the pocket, which takes a fair amount of wriggling because of the new leather. I have to do this at the other end as well to exit the station. This will get easier over time, but already I'm thinking I should carry a wallet instead.
Mujjo Leather Wallet Case: Day Three
I go to meet up with some friends at the pub. It's important to note just how gorgeous the case looks on a night out. The leather makes it stand out already, but the stitching on the rear pocket places it a cut above the Apple case. It oozes hand crafted quality, makes it feel like a truly premium case.
Apple's case covers the three buttons on either side with a metal exterior, while Mujji places indents in the leather to locate the buttons. They are firm, easy to press, and essentially felt the same as the Apple case.
Mujjo Leather Wallet Case: Day Five
By this point I've given up on using the case as a total replacement for my wallet. That's okay though. I've found its best used to store one non-contactless card, like my driving licence. I can easily pull it out when needed, it doesn't clash with Apple Pay, and it's probably the card I'd need most beyond my debit card for day-to-day life.
Unfortunately, this week has also made me aware that I basically never get asked for ID anymore when buying age-restricted goods.
Mujjo Leather Wallet Case: Day Seven
The Mujjo case gets a big thumbs-up. For the same price as Apple's leather case, you get a pocket on the rear to store a card or two for easy access. Mujjo also offers wallet-free cases for slightly less, but the wallet stitching on the rear adds a lovely design flair that makes it worth the extra even if you think you'll only use it occasionally.