Hold On, Where Did Pepper Potts' 'Avengers 4' Armor Selfie Come From?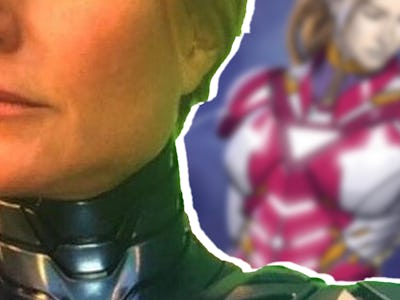 Marvel Entertainment
Another day, another photo from the set of Avengers 4. This time, a selfie of Gwyneth Paltrow in an armored blue costume has surfaced online, igniting fan speculation that Paltrow's Pepper Potts will armor up (again) in the Marvel franchise as her own superhero identity named "Rescue."
But before we tell you to pick up Matt Fraction's The Invincible Iron Man and Tom Taylor's Superior Iron Man to get caught up on Rescue's story, let's figure out something else first: Where did this photo come from?
Most outlets reporting on this picture, which began in the last twelve hours, are citing Instagram accounts like @kpow_ok (which also leaked the picture of the Proton Cannon) and @uncannycomicsquest as the source. But neither reveal where the photo was obtained. Not even the sly "from an anonymous insider" thing you get from blogs, which would be dubious anyway since the picture appears to be a selfie from Gwyneth Paltrow's phone.
So, like, was Paltrow hacked? Did someone swipe her phone, enter her passcode while she wasn't looking, choose the one photo of her costume, and send it to themselves to post on Instagram? What happened?! A reverse Google image search comes up with nothing of worth; it's all the same shady image boards most leaks or faked images come from.
For a multi-million dollar production so guarded by the Disney machine, where everyone frequently jokes about being murdered for spoiling anything (in our set visit to Daredevil Season 3, showrunner Erik Oleson joked that if he spoiled anything Marvel would activate a trap door that would drop him below ground. Hysterical!), it is super implausible Paltrow would be allowed to just selfie herself in her new costume. Or would be allowed to upload it anywhere.
Is this photo real? Let's look at the facts based on what we know about Marvel Studios and the picture itself.
The photo is a selfie, in front of a wrinkled green screen wall. So far so good, it looks exactly like it's from a movie set, especially one so visual effects heavy as Avengers 4. But how did a selfie from a famous actor's phone leak without it being part of a horrendous mass hack?
But Paltrow's "Rescue" costume (I swear I'll give you an explainer in a minute) appears to be entirely practical, like cosplay. It isn't decorated with motion capture bulbs, as far as we can see. Compare Paltrow's armor to behind the scenes photos of Robert Downey Jr.'s Iron Man, which looks like a broken action figure before all the cool visual effects are layered on top.
Marvel instills the fear of God in all of its actors. There's a Reddit thread that documents a brief history of Marvel actors joking about trained snipers if they say anything revealing about an upcoming film. Paltrow, a veteran of the franchise since 2008, would probably know better than to risk having any material that could find its way online. (Or maybe at this point she doesn't care. I don't know!)
In the era of Hollywood blockbuster tentpole movies with stories and characters so vivid it feels like it actually exists even when the credits roll, it's expected that even the most suspect "leaks" deserve healthy speculation about what the next film will entail. And that's okay, because that's just what fans do, and have done as far as the earliest days of the Sherlock Holmes fandom.
But that there is a distinct lack of any actual insight into the source of Goop's selfie feels reckless, and to readers, dishonest.
We've reached out to Gwyneth Paltrow's publicists via her lifestyle brand Goop and will report when we hear back.
Anyway, in the comics, Pepper Potts suits up in her own armor and adopts the name Rescue. It was initially red and pale pink (Rescue Armor Model 1, from Invincible Iron Man #10) before turning pink and mauve (Rescue Armor Model 3, Superior Iron Man #9). In the CGI TV series Iron Man: Armored Adventures, Pepper Potts wore a blue and white armor when she became Rescue, which is what the film appears to take inspiration from. You know, if the picture is real.
Avengers 4 will be released on May 3, 2019.