'Avengers 4' Leak Hints at a Threat "Greater" Than Thanos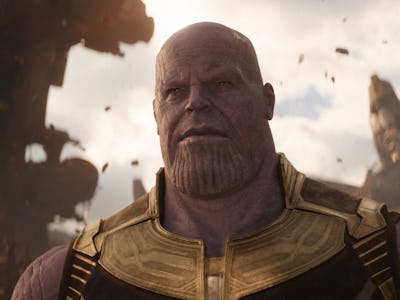 Marvel Entertainment
Thanos did a big number on the Marvel Cinematic Universe at the end of Avengers: Infinity War. But a new plot summary from (still untitled) Avengers 4 hints at a threat "greater" than even Thanos.
On Thursday, Instagram user @kpow_ok shared toy box art allegedly from Avengers 4, which reveals a new illustration of Thor (Chris Hemsworth) and Rocket (voiced by Bradley Cooper) in sleek new white uniforms. A new plot summary on the packaging reads:
"The Asgardian Thor wields the mighty Stormbreaker in his battle against new foes. Rocket teams up with a new crew to guard the galaxy from an even greater threat."
The vague plot description could mean Thanos is that "even greater threat," but the rumor mill surrounding Avengers 4 is that the film will be titled Avengers: Annihilation, a loose adaptation of the 2006 Marvel crossover Annihilation.
In the comics, at the same time Civil War storyline took place when Marvel heroes on Earth fought over superhuman registration, cosmic heroes like Star-Lord, Nova, Silver Surfer, Moondragon, and more teamed up as a "United Front" to stop Annihilus and his armada of warships dubbed the "Annihilation Wave."
Annihilus may be a powerful enemy (when he's not being an obnoxious roommate with Spider-Man and the Human Torch), but greater than Thanos? That will depend on just how much power Thanos lost after his Infinity Gauntlet burned out. There's also the force no comic book superhero is strong enough to withstand: Intellectual property law.
As a Fantastic Four villain, it is very likely Annihilus is subject to 20th Century Fox. Sure, there is that Disney buyout, sure, but it's unlikely that Annihilus could be used so soon when production on these two final Avengers movies began long before the $52.4 billion merger announced in December 2017. Back when he was a Marvel director, James Gunn expressed interest in using Annihilus for Guardians of the Galaxy Vol. 3.
All of this is speculative, especially since the validity of the above Avengers 4 toys remains dubious. Toy maker Hasbro has not officially released any images of Avengers 4 yet (not to mention the film's title on the box only reads "Marvel's Avengers"). We've reached out to Hasbro to confirm the validity of the toy packaging and we'll update when we hear more.
Avengers 4 will be released on May 4, 2019.