Steve Aoki Will Be Cryogenically Frozen — For Now, He's Selling Comics
"I can press pause and come back when it's time. I just hope we don't live in this dystopian backdrop 'Neon Future' is set in."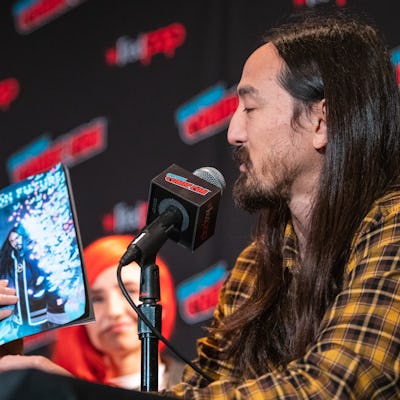 Julian Cassady
Steve Aoki, the world-famous DJ who travels the globe selling out nightclubs, playing outdoor festivals, and throwing cake at people, is spending a muggy Friday in October at Comic Con. He's here to talk about the future. And also, to promote his new comic book.
"We can hit this point of singularity where we're one with the A.I.," predicts the 40-year-old musician from the floor of the Javits Center.
The show floor of New York Comic Con, spanning 840,000 square feet, is packed with thousands of fans and cosplayers celebrating their own corners of pop culture media. From DC Comics to Dragon Ball Z, it's all here, with big booths selling exclusive merchandise. It's nerd heaven that can sometimes feel like purgatory, mostly when thousands of bodies move at a snail's pace through congested spaces.
But smack dab in the hysteria, Aoki remains chill behind the table of relatively unknown publisher Impact Theory. A long line of Aoki fans curve around a corner, spilling into the territory of another exhibitor promoting collectible statues.
Despite Aoki's celebrity, Impact Theory has a lowkey presence at Comic Con, at least compared to the towering displays belonging to Bandai and Rooster Teeth. Co-founded by Tom Bilyeu with the fortune he amassed selling Quest Nutrition protein bars, Impact Theory is a for-profit brand that can be best described as TED Talks meets Marvel.
Like any publisher, Impact Theory wants to create potential franchises, but franchises imbued with themes and metaphors alluding to his philosophy of self-improvement. It's like Christian media, but explicitly without the Christian part.
This approach seems like a perfect fit for Aoki, who shares similar ideas regarding futurism and mankind's relationship with technology. In between promoting Neon Future, Impact Theory's first empowering IP made in collaboration between Aoki and Bilyeu, he continues to spout predictions about a future that's equal parts science fiction and actual science.
"I believe we're gonna move pretty quickly in our civilization and technology that hopefully [we] get to live forever," Aoki says. If we don't, "I got cryonics."
Two years ago, the Billboard-topping artist made headlines for saying he wanted to be cryogenically frozen. Aoki was, and is, dead serious. "Cryonics is my insurance policy," he tells Inverse.
"I still have 30 years of premium health. I can press pause and come back when it's time. I just hope we don't live in this dystopian backdrop Neon Future is set in."
Neon Future is why Aoki is at Comic Con — besides his passion for comics. He namechecks to me '90s-era Marvel, when Wolverine, X-Men, and the Punisher popped off the page with aggression. "I needed Marvel," he recalls. "Anything Marvel. Marvel was my go-to."
Aoki's Neon Future is anything but aggressive. Named after his best-selling albums (Neon Future III hits in November), the sci-fi comic book debuted its first issue at Comic Con sporting a bonafide creative team, made up of Eisner Award-winning writer Jim Krueger (DC's Justice) and illustrator Jheremy Raapack (World of Warcraft: Bloodsworn).
The series explores a dark future where a totalitarian government purges society of technology, forcing humans with cybernetic enhancements — the "Augmented" — to rise up.
"So, in Neon Future," Aoki begins explaining, unphased by the cacophony of the convention, "it's a dystopian, authoritarian government that's cracking down on technology. 'You can't grow anymore, we're gonna hunt technology down.'"
Thus begins a rebellion, led by the hooded figure Kita Sovee (portrayed in illustrations as Aoki). But Neon Future is really the story of Clay Campbell, a G-Man resurrected by the same tech he's sworn to destroy and whose journey anchors the story for readers.
Listening to Aoki explain Neon Future can sound like a philosophy statement and a futurist manifesto all at once.
"We believe technology can help give us, humanity, limitless potential," he says. "It's the next evolutionary process. Neon Future is the convergence of technology and people."
In talking to Inverse, Bilyeu confirms Impact Theory is publishing comic books full time in addition to its other endeavors. "Impact Theory was born out of working in the inner cities, working with extraordinary people who will never do anything with their lives because they don't believe they can, but could if they had the right mindset," Bilyeu says. "I started thinking: How do you give someone an empowering mindset at scale?"
By all accounts, Impact Theory is a success, with over 618,000 subscribers on its YouTube channel featuring longform interviews with personalities like Michio Kaku, Lilly Singh, Levar Burton, Wyclef Jean, and WWE's Titus O'Neil
But with 7.2 billion people in the world, Bilyeu wants to think bigger. The company's ultimate goal, laid out in a 2017 post on Medium, is to "build the world's largest library of empowering Intellectual Property (IP)" by "incubating mission-based companies that we believe are improving the world in some way" and working with them to create content with a positive impact.
"What do I know people are into?" Bilyeu says. "They're into books, TV shows, comic books, video games. If you can meet them where they are, with characters they can look up to and be entertained by, it could work. Narrative is how we make sense of the world."
Bilyeu isn't just capitalizing on a medium that now inspires all the money-making movies and TV shows. Like Aoki, Bilyeu is a dyed-in-the-wool fan of comics. When he earned his driver's license as a teenager, his first stop was his neighborhood comics shop.
"That for me was liberating," he remembers. "It was the early '90s. Image was happening, I responded to their art in a big way. I was impacted by art. As I got into college I got into deeper stuff: Frank Miller's Batman, Daredevil, Watchmen. Then I really began to realize the narrative power."
"We believe technology can help give us, humanity, limitless potential. It's the next evolutionary process."
With a shared passion for comics and a belief in the future, Aoki and Bilyeu created Neon Future. "What drew us together was [understanding] humans have potential," Bilyeu says. "We're so close to that future where technology is going to augment that potential, but what do you do with potential? Use it? Run from it? That's the core of the story. You have potential, but if you don't use it then you'll go nowhere. If you use it, you'll go everywhere."
In the same way George Lucas' Star Wars influenced Bilyeu to live his best life, the two hope to do the same a new generation. That's the goal.
But the commercial industry of comic books can be hard, especially if you're not a recognized player like Marvel, DC, or Valiant. And it can be easy to be cynical about unproven IP like Neon Future, especially one with a celebrity like Aoki, whose presence can give off the unsavory image of a vanity project.
When I voice such concerns to Bilyeu, however, he assures me just how much Aoki didn't want to be all over the comic.
"He did not want to be a main character," he says. "He's a smaller, important character but we did not have to worry about being 'true' to Steve . While I love Steve as a person, I would never let him stand in the way of telling an awesome story."
Steve, to the relief to the book's creators, agreed. "He comes from a position of, 'This is a rad story' and everyone is onboard with that," Bilyeu says. "He just believes in the story and wants to support it. As a team, we're committed to telling a story that someone who hasn't heard of Steve, doesn't know what Impact Theory is, can read it and go 'Damn, this is awesome.'"
There's no better place to tell stories than at Comic Con. "I'm not deejaying here. It's not a set," Aoki says. "I'm here for my love of comics."