How Rooster Teeth's 'gen:LOCK' Made 'RWBY' Vol. 6 Better (And Vice Versa)
At New York Comic Con, Rooster Teeth reveals a creative and technical synergy between two of its biggest shows.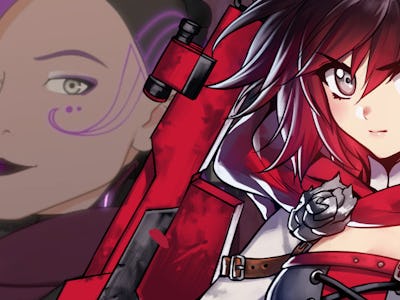 Rooster Teeth
Fans of Rooster Teeth had a heck of a New York Comic Con, as the Austin-based production studio debuted astonishing new footage of both RWBY Volume 6, premiering October 27, and the blockbuster new sci-fi anime series gen:LOCK, with a confirmed release date of January 26 on FIRST.
But while one show is a proven favorite and the other is the new hotness (with A-list talent like Michael B. Jordan), Rooster Teeth's Head of Animation Gray G. Haddock and RWBY series writer and voice actor Miles Luna tell Inverse how simultaneous production on the two shows is mutually benefitting the other in profound ways.
For instance: There's been a lot of work to technically improve the creation of crowd scenes, a particular area Rooster Teeth has admitted to struggling with in the past. Because gen:LOCK takes place in a future version of our real world, crowds are a critical thing to get right.
"It's one thing to make a fantasy world because you can't compare it to real life," says Miles Luna. "But a cartoon version of something that exists? All eyes are going to be on what's correct. One of those things is crowds."
Without getting deep into the specifics, Luna says Rooster Teeth has made leaps in efficiently creating crowd scenes, not to mention making them look alive. "We did a whole bunch of R&D on crowd research for gen:LOCK that we're now able to use retroactively for RWBY Volume 6," he explains.
But while gen:LOCK has already had a direct impact on RWBY, Luna adds that the new series wouldn't be possible without the long-running anime. "We would not have been able to tackle gen:LOCK without RWBY. gen:LOCK is built upon the foundation RWBY built."
"For gen:LOCK we began enhancing some of the technology in the pipeline," Haddock tells Inverse, naming areas such as crowds (again), as well as rendering "enhanced rigging" and increased "use of matte painted backgrounds." He adds that a foundation of technical upgrades made over the last five years of RWBY, which premiered in 2013, gives the gen:LOCK team wiggle room to try new things.
"With gen:LOCK, we can hit the reset button on what the rules were, let the team really experiment and figure out cool new ways to blend together innovative things [we've done] over the last couple of years," Haddock says. "Some things we've done on gen:LOCK will show up in RWBY and some things we've come up with for RWBY might show up in gen:LOCK."
Luna adds that the final ingredient for both shows is that it's all produced at Rooster Teeth's animation headquarters in Austin, Texas, where collaboration is just a few steps away.
"It's a huge collaborative effort in our studio," he says. "It's great someone from their desk and walk over and go, 'Can you give me a hand?' That's something we've always been grateful about working on projects we keep in-house. As we get bigger we have to start exploring potential outsourcing. For now we're still proud we do it 100 percent in Austin."
RWBY Volume 6 premieres October 27 on Rooster Teeth FIRST. gen:LOCK premieres on January 26.
Update 10/9: A representative for Rooster Teeth sent Inverse a clarification from Miles Luna regarding his quotes about producing shows "100 percent" in Austin. Rooster Teeth is working with studios outside Austin to produce the newest volume of RWBY and gen:LOCK. The statement is reproduced below:
"Apologies if I misspoke. Early morning interviews are hard, haha. Though we are certainly proud to do a massive amount of work on our shows in-house, we do work with a number of amazing outside talents to help us make our projects the best they can be!"