How Casting Michael B. Jordan in 'gen:LOCK' Helped Rooster Teeth "Grow Up"
How the animation studio that began with 'Red vs. Blue' evolved with its next ambitious project.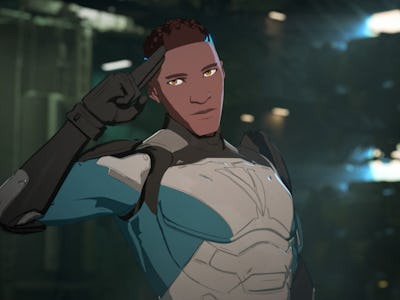 Rooster Teeth
Most of the world knows Michael B. Jordan from his starring roles in movies like Creed and Black Panther, but anime otakus know him as a like-minded, passionate fan of Japanese anime. In 2019, Jordan will live out a boyhood dream when he stars in gen:LOCK, the new sci-fi anime from Austin-based production house Rooster Teeth.
Casting the A-list actor did more than just bring attention to Rooster Teeth, known for gamer-centric content like Red vs. Blue and Achievement Hunter. Behind the scenes, it forced a "growing up" for the 15-year-old studio, not to mention some changes in its tried-and-true production process.
"When we started getting traction on [gen:LOCK], we understood we might have to grow up as a business," said Rooster Teeth Head of Animation, Gray G. Haddock at RTX 2018.
And growing up, he explained, included "placing some infrastructure" to work with the Screen Actors Guild, an unprecedented move for Rooster Teeth Animation.
While Rooster Teeth has been animating shows since it launched fifteen years ago, it wasn't until 2014 that it launched a subdivision exclusively dedicated to animation.
Much of this was due to the success of RWBY, the anime-style series about four teen girls who battle monsters that debuted in 2013 and is now entering its sixth season. RWBY's cast is mostly made up of talents from within the company, including Achievement Hunter personality Lindsay Jones, and Rooster Teeth Director of Social and Community Marketing, Barbara Dunkelman.
The show's popularity encouraged talks about going union, but "for a whole bunch of business strategy reasons" RWBY remains a non-union production for actors. "It was going to be a business challenge," explains the studio head. "The train already left the station on RWBY."
gen:LOCK, by contrast, is a union series, which allows actors like Jordan, Dakota Fanning, and David Tennant (of Doctor Who and Jessica Jones fame) to participate. And while negotiations with the whole cast took place at various times, the May 2018 announcement of Jordan as the show's star gave Rooster Teeth some serious leverage.
"It absolutely accelerated certain things," Haddock said. "We were able to get people to sign on even faster. We were able to lead with that information. And because we had gone through this process we had with the Hollywood casting machinery, we were much more efficient at it."
But with the "fantastic" casting came opportunities for change behind the scenes. Haddock said the team "decided to be more flexible on the order of which we do things in production."
In a change from other Rooster Teeth shows, the animation stage began without the actors' voices already recorded. So Haddock, in addition to writing, producing, directing gen:LOCK, and running all of Rooster Teeth Animation, voiced the entire first batch of episodes himself.
"We had to hit milestones. We had to begin animating," he said. "I read all the parts with the cadence and intonations I was hoping to direct the performances into, and roll with the changes as needed. The poor crew had to put up with three or four months show of me performing every part on the show."
But as the casting decisions become final, it's helped Haddock polish and lock down the scripts.
"It's absolutely helped hearing or bearing in mind those actors' voices and potential they might bring the part," he said. "With the casting, I can finally hear the dialogue in the script as it was meant to be performed and what all these amazing talents are bringing to the part."
gen:LOCK will premiere January 2019 on Rooster Teeth's FIRST.
UPDATE: A previous version of this article described Barbara Dunkelman's position as "Community Manager." Her full title is Director of Social and Community Marketing. This version has been corrected.