'Black Panther' Star Joins Rooster Teeth's Sci-Fi Mecha Anime 'gen:LOCK'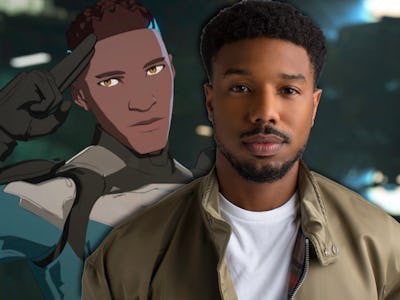 Lance Gross
At last, Killmonger is going anime. Actor and known anime fan Michael B. Jordan (Black Panther, Creed) has signed on to star in gen:LOCK, the next original series from Austin, Texas-based animation studio and content hub Rooster Teeth. Jordan's production company, Outlier Productions, will co-produce the series, which does not yet have a confirmed release date.
On Monday, Rooster Teeth announced Jordan as the star of gen:LOCK, a new science-fiction anime that takes place in the distant future amidst a global war. In gen:LOCK, Earth's last free society recruits a team to control giant, experimental mecha to turn the tide of the war. Jordan will voice Julian Chase, an ex-fighter pilot who becomes the first candidate in the mecha program.
gen:LOCK was previously revealed at New York Comic Con 2017, and will be the second original anime from the studio following its successful RWBY franchise. RWBY, in which a group of girls fight as monster hunters, first aired in 2013 by the late animator Monty Oum. Rooster Teeth found its original success through Red Vs. Blue, a comedy web series "filmed" using the Halo video games. The studio also releases a number of podcasts, talk shows, comedy sketches, and live-action films like Lazer Team. Headquartered in Austin, Rooster Teeth recently celebrated its fifteenth anniversary.
gen:LOCK also marks Jordan's return to voice acting since a 2014 episode of the Adult Swim series The Boondocks. In 2013, before he played Killmonger in the Marvel Cinematic Universe, Jordan voiced Cyborg in the critically-acclaimed Justice League: The Flashpoint Paradox, a direct-to-home video adaptation of the 2011 DC Comics crossover Flashpoint, written by Geoff Johns.
In a 2017 interview with Inverse, gen:LOCK creator and Rooster Teeth producer Grey G. Haddock said the studio hopes gen:LOCK will attract both existing Rooster Teeth fans as well as new audiences. He also said the success of RWBY has afforded the studio opportunities to try new things. In this case, it's mecha sci-fi, a departure from the fairy tale fantasy that is RWBY.
"RWBY lets us try and bring up new shows as well," Haddock told Inverse back in October. "We're hoping that, much like RVB fans checked out RWBY and some of them stuck around for it, RWBY fans will check out gen:LOCK. It might be their cup of tea, it might not for some of them. But hopefully gen:LOCK will also attract another broader audience that will be a little bit older who are, I guess, big fans of science-fiction storytelling."
There is no premiere date set for gen:LOCK. RWBY Season 6 will air this fall.