'Black Panther' International Trailer Unleashes the Villain, Killmonger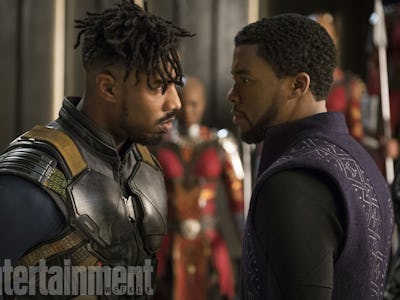 Marvel
There's no other way to put this: The first official trailer for Marvel's Black Panther was dope as hell. Set to an adrenaline-pumping mash-up of Vince Staples "Bagbak" and Gil Scott-Heron's "The Revolution Will Not Be Televised," the trailer introduced fans to Black Panther's fantastic homeland, Wakanda. A new international trailer follows the same beats as that amazing first trailer, and uses the same music, but it offers a much more targeted look at Wakanda's politics and, in the process, gives a better look at the villain. Michael B. Jordan's Erik Killmonger looks pretty dang intimidating.
"The world's gonna start over. I want to be on top," Killmonger says in a voiceover in the trailer.
"What do you want?" T'Challa (Chadwick Boseman) asks.
"I want the throne," Killmonger responds, and a later scene offers up a better look at his Golden Jaguar suit as he throws down with Black Panther.
In the comics, Killmonger was a dissident in Wakanda who grew up outside of the isolationist country after his family was exiled following a failed coup attempt by his father. He came back and tried to overthrow the new King, T'Challa, but was defeated. It's unclear at this point exactly how closely the upcoming film will adhere to the character's comic backstory.
The trailer also features a scene where T'challa's sister Shuri shows him the new and improved Black Panther suit. This one is "lighter, completely bulletproof and absorbs energy for redistribution." Getting a new suit for a new movie appearance is an MCU tradition (just ask Tony Stark about his Iron Man suits), but the line does appear to throw cold water on the theory that Shuri has her own Black Panther suit.
Watch the trailer, via Marvel Japan's Twitter account, below.
Black Panther comes out on February 16, 2018.