How Marvel and Mecha Anime Influenced Rooster Teeth's 'gen:LOCK'
Showrunner Gray G. Haddock and writer Evan Narcisse reveal the iterative technology behind Rooster Teeth's ambitious new series.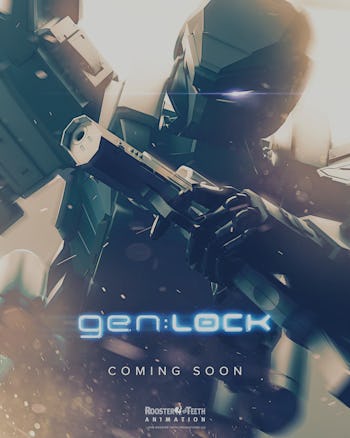 Rooster Teeth
Rooster Teeth are bringing mechs to a gunfight in its ambitious new sci-fi anime series gen:LOCK. But what will the giant robots of gen:LOCK look like? And will hardcore mecha fans get a series that's more like Gundam or more like Power Rangers?
At RTX, showrunner Gray G. Haddock and consulting writer Evan Narcisse unpacked some of the speculative technology of gen:LOCK as well as some very specific influences that fans can expect the show to feel like.
During a press roundtable at RTX 2018 in Austin, Texas, Haddock said that gen:LOCK will have iterative technology that will change as its story continues. While most of the specifics are being kept close to the studio's chest, Haddock was willing to reveal that there are "multiple factions" of forces in the story, each with their own level of science that leads to different classes of mecha.
"People are gonna see marketing pieces [soon], and just because you see a particular mecha in that ad doesn't mean the show is centered around that particular class of mecha," Haddock explained. "We've got multiple factions and science going on in the show."
Set 50 years in the future during a devastating war on Earth, gen:LOCK follows a group of young pilots who are chosen to control a new class of mecha that represent a "generational leap" compared to the other mechs seen in the series.
The show is Rooster Teeth's most "all-star" production yet, with actors Dakota Fanning, David Tennant, veteran anime voice actor Köichi Yamadera, and Michael B. Jordan starring in the series.
"All of their mecha is heavily armored, short, and squat, and not that humanoid," Haddock explains of the "standard-issue" mechs the military is supplied with. "They're just walking tanks, with cannons where their arms should be."
Then, there's Team gen:LOCK. While Haddock doesn't reveal any concept art, he does describe how different Team gen:LOCK's robots are in detail.
"The gen:LOCK team show up and they represent a generational jump in technology," he says. "They've got more human-shaped mecha that can move and fight similar to a human can, at a four-story-tall scale. They're up against an enemy [who has] less of a conscious of how they're evolving their science."
Haddock further cited some specific mecha anime — a diverse subgenre of Japanese animation that revolves around the idea that giant robots are cool as hell — that Rooster Teeth referred to throughout production.
"With mecha, hopefully, people will recognize some classic ingredients from such shows as Gundam and Evangelion and Full Metal Panic, and all the different shows that went into Robotech," Haddock said.
Narcisse also revealed a somewhat surprising influence: Marvel's Iron Man, whose technology changed throughout the decades in comics and in the ten years of the Marvel Cinematic Universe.
"The first season of gen:LOCK, for me, it feels like a complete technology arc," Narcisse said. "We see the technology in one place and it ends in a different place when the season ends. Like Iron Man, you watch his armor evolve over the decades. We are watching this technology iterate in 'real-time' and the characters react to the developments and technology."
gen:LOCK will premiere on Rooster Teeth's FIRST in January 2019.