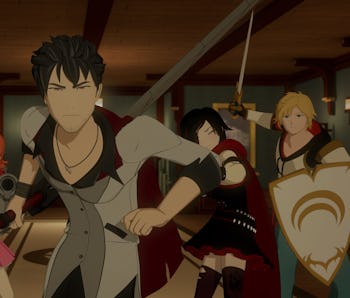 Entertainment
Everything We Know About 'RWBY' Volume 6
The showrunners and stars of Rooster Teeth's hit anime series tease what's to come when Team RWBY reunite.
Rooster Teeth
Ruby Rose is getting the band back together, and she's not wasting any time saving the world.
In Volume 6 of Rooster Teeth's hit anime series RWBY, premiering October 27, the scythe-wielding huntress Ruby Rose (voiced by Lindsay Jones) will reunite Team RWBY for the first time since the girls disbanded at the end of Volume 3.
In an interview with Inverse at RTX 2018, producers Miles Luna, Kerry Shawcross, and series star Lindsay Jones unpacked the upcoming season, which will follow Ruby as she reunites with best friends Weiss, Blake, and Yang and journey to the kingdom of Atlas to protect the "Relic of Knowledge."
If they survive.
Here are all the things we learned about RWBY Volume 6 at RTX.
Team RWBY Is Back
For the first time in years, Team RWBY — the nomme de guerre of Ruby, Weiss, Blake, and Yang, teen monster Huntresses extraordinaire — will fight as one, just like old times. But not everything will be the same.
"Just like reuniting with a friend after so long, some things are the same and some things don't [click] right away," says series director Kerry Shawcross. "As much as they're physically moving a lot, there's an emotional journey as well. They've grown in the last couple years but no one's done growing up yet."
In Volume 3, Team RWBY disbanded after the fall of Beacon during the Vytal Festival tournament. In Volume 4, Ruby teamed up with other Beacon students Nora, Jaune, and Ren, forming Team RNJR. While Blake, Weiss, and Yang were never far away, the old Team RWBY was a thing of the past. Until now.
"Everyone's excited for the fact that the team is reunited and back together," says Lindsay Jones, voice actress for Ruby Rose. "The growth the characters have gone through with Volumes 4 and 5, a lot of personal journeys, we're excited to move forward with them and address bigger issues that have been kind of tackled in Volumes 4 and 5 but hitting even harder in Volume 6."
Journey to Atlas
Team RWBY is given the all-important task of protecting the Relic of Knowledge to the kingdom of Atlas. But what is Atlas like? And what is the Relic of Knowledge?
Atlas, the northernmost kingdom of Remnant, is a location that's been teased as far back as the first volume of RWBY. "They're a very technically advanced kingdom," Shawcross says, adding that the upper echelons of Atlas' government tend to "enjoy the finer things in life." And it's a society that wields "a lot of strength and military and might and force."
Atlas is also an isolated kingdom, lending it the vibe of ancient Rome meets ancient Japan. "They've closed off their borders and become isolationist," Shawcross says. "When we get there it will be interesting to see how things have been going since Weiss left."
Behind the Scenes
A compelling twist to RWBY Volume 6 is that the plot encouraged some innovation behind the scenes. As Luna puts it, the always-changing locations and props was a challenge to the production team.
Luckily, there was a simple solution: Start early.
Our characters are constantly on the movie and constantly going to new places, which was a challenge for the production team," Luna says. "We tried to jumpstart the process a little earlier this year in order to make room for all the props and sets and characters we'll be encountering on our way to Atlas."
The Relic of Knowlege
Atlas is only a place compared to the other big thing in Volume 6: The Relic of Knowledge. Not too unlike the Infinity Stones, Relics are ancient items of immense power within the universe of RWBY.
There are four Relics: the Relic of Choice, Relic of Creation, Relic of Destruction, and the Relic of Knowledge.
"The relic is something we've established that Salem is seeking out," says series writer and voice actor for "Jaune," Miles Luna.
"It's an item of incredible power. What that power is and what it does is something we have yet to answer, but if fans tune in they will most certainly be learning about the Relic of Knowledge and perhaps even where it came from."
There And Back Again
Of course, relics and kingdoms are only second to the characters of RWBY. And the creators tease that Volume 6 will further test the heroes in ways they haven't been tested before.
"The difficult thing will be the journey there," says Luna. "It's not a question if things go wrong but when, and if our characters will overcome the trials and tribulations ahead of them."
RWBY Volume 6 will premiere online on October 27.