Elon Musk Denies Rumors About Frontrunner for Tesla Chairman Position
Musk dismissed the rumors as "incorrect."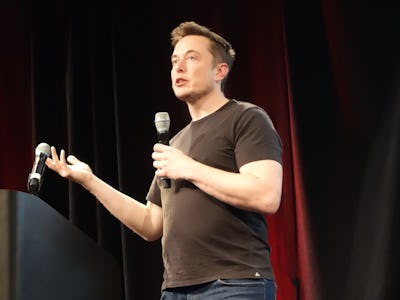 Flickr / jurvetson
Elon Musk has denied a report about the frontrunner to take over for him as chairman of Tesla's board. The CEO has agreed with the Securities and Exchange Commission to resign from his other position at the company, leading to speculation around who will fill Musk's shoes.
The Financial Times reported on Thursday, speaking to two people briefed on discussions, that James Murdoch is a favorite for the job. Murdoch joined the board last year as an independent director, and also serves as CEO of 20th Century Fox. The newspaper claims that Musk refused to comment on the story prior to publication, but hours after it went live he responded to it on Twitter by stating: "This is incorrect." Four users responded to Musk in support of his comment with the hashtag "FakeNews," while four others mentioned "Pravduh," a venture outlined by Musk in May where users could rate the credibility of news websites.
The SEC took action against Musk after he claimed on his Twitter page that he had "funding secured" to take the company private at $420 per share, around 20 percent higher than the trading price of that day. The commission sued Musk and described his claim as "false." The parties eventually settled on an agreement wherein Musk would not serve as company chairman for at least three years, and both Musk and Tesla would pay $20 million in fines each.
See more: With Elon Musk Out as Chairman, Here's What's Next for Tesla
The action has led to speculation about who will replace Musk as chairman. Murdoch had been cited previously as a candidate, but the New York Times claimed that he had yet to discuss the idea. Analyst Gene Munster suggested former Boeing CEO Jim McNerney, while Wall Street Journal writer John Stoll suggested Warren Buffett as an ideal candidate — a candidate that may stay a suggestion, as Musk and Buffett have publicly argued in the past over investment strategies.
Musk was given 45 days to resign from the post after the agreement was finalized on September 29, meaning he has until November 13 to take action.
Not everyone will be upset by the move, as investors voted on a plan this summer on whether to replace Musk with an independent chairman.