Why Tesla Investors are Considering a Plan to Remove Elon Musk as Chairman
The car company could remove its CEO.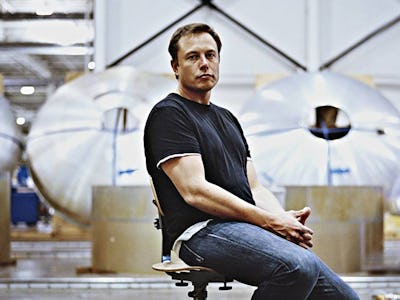 Elon Musk
Elon Musk could leave his role as chairman of Tesla, if a new proposal is approved at the annual shareholder meeting. The proposal, put forward by Jing Zhao and published on Thursday, would see Musk remain as CEO while an independent director takes over as chairman.
The proposal explains that while a dual position was advantageous when Tesla was a small and nimble company, "now in this much more highly competitive and rapidly changing technology industry, it is more and more difficult to oversee Tesla's business and senior management." The proposal also claims that "an independent chairman of the board of directors is the prevailing practice in the international market, such as in the United Kingdom. In the United States too, many big companies already have or began to have an independent Board Chairman. Tesla should not be [an] exception." Musk is a busy man, as he outlined at a recent South by Southwest panel:
The move would be a mirror image to the one Bill Gates took in 2000, where he handed over his CEO title to Steve Ballmer but remained as chairman. Musk would still be responsible for all the big decisions as CEO, but he would no longer lead the board and he would have to keep the chairman on his side to help win votes backing his strategic decisions. Musk would remain eligible for the $2.6 billion reward plan announced in March, which only requires that he remain as either CEO or a dual role of executive chairman and chief product officer.
Not everyone is on board with the idea. Recommending a vote against the proposal, the board stated that "the Company's success to date would not have been possible if the Board was led by another director lacking Elon Musk's day-to-day exposure to the Company's business." The board also believes that the company is still at a stage of development where combining the roles makes sense, and "separating the roles of Chief Executive Officer and Chairman at this time would not serve the best interests of the Company or its stockholders."
The annual stockholder meeting is scheduled to take place on June 5 at 2:30 p.m. Pacific time, at the Computer History Museum in Mountain View, California. A webcast will be held at this address.
The fate of Musk's future at the company could be decided at the meeting.