'Fortnite: Deep Freeze Bundle' Is a Totally Brilliant Waste of Money
How many people will pay money for a free thing this Christmas?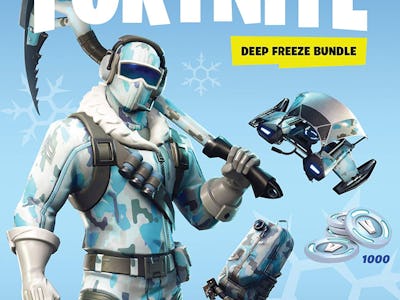 Epic Games
Fortnite is about to make a sleigh-full of V-Bucks this holiday season by selling something that's essentially already free. On the plus side, it does mean that plenty of Fortnite gamers can get a fairly cheap hard copy of the game that may quickly appreciate in value.
Epic Games announced a partnership with Warner Bros. Interactive on Tuesday to bring physical copies of Fortnite to store shelves via the Fortnite: Deep Freeze Bundle. It includes 1000 V-Bucks (roughly a $10 value) and the Deep Freeze collection featuring the Frostbite Outfit, Cold Front Glider, Chill-Axe Pickaxe, and Freezing Point Back Bling.
The full bundle is already available for pre-order on Amazon for the PlayStation 4, Xbox One, and the Nintendo Switch for $29.99. So anyone who buys it will be paying $30 for a game that is 100 percent free-to-play.
Even worse, the Frostbite outfit isn't even cool. It's basically just an arctic camo reskin of Raptor, or more accurately of Havoc, the second free Twitch Prime Outfit.
The pickaxe is at least somewhat cool, but the glider is generic and the white coloration on the outfit and back bling would probably draw more attention to enemy gunfire than it would camouflage the player. Most of the map is green with a small portion being desert. The only way this would be even remotely useful would be if the map were suddenly coated in snow for the holidays.
If Epic Games and Warner Bros. wanted to make a fun, exclusive pack for the holidays, why didn't they do something silly and fun rather than generic wintry? Clearly they wouldn't want to do something like Santa Claus or a Christmas Tree, but a Snowman pack? That's something I'd drop $30 for.
Regardless of how anyone might rate the quality of the bundle, it hardly matters because plenty of parents will no doubt just buy this for their children this holiday season so they can procure a physical gift for all the teens preoccupied with this digital game and its world. From that perspective, maybe $30 isn't all that bad.
All this after some poor (literally) soul bought a hard copy of Fortnite in June for $449. We bet that person is crying their eyes out right now.
Fortnite: Deep Freeze Bundle will be released in stores and online November 13, 2018.
For an even better experience worth buying this holiday season, watch us review Fortnite Monopoly.