Sexual Trauma in Women Linked to Devastating Long-Term Health Effects
"These results are not surprising, but very important for us all to understand."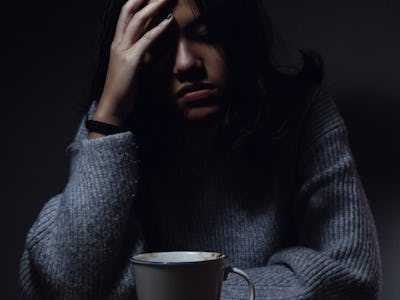 Unsplash / Anh Nguyen
The scars left behind by traumatic events mark both the body and the brain. As the recent testimony of Dr. Christine Blasey Ford about her sexual assault allegations against Supreme Court nominee Brett Kavanaugh illustrated, trauma can be both immediate and long-lived in the psyche. Now, a study in JAMA Internal Medicine shows that the same can be said about sexual harassment and sexual assault. Those experiences are not just singular moments in an individual's life. They live on as medical maladies that persist for a lifetime.
The team of researchers from the University of Pittsburgh and the Harvard T.H. Chan School of Public Health discovered the long-lasting effects of sexual trauma in a study evaluating the physiology and mental health of women with a history of workplace sexual harassment and assault. They found that women who had experienced sexual harassment had significantly higher odds of hypertension, clinically poor sleep, and higher blood pressure than women who have not. Sexual assault, meanwhile, was associated with higher levels of clinically significant depressive symptoms, anxiety, and sleep quality.
Taken together, the effects that sexual assault and harassment have on women appear to be the results of stress caused by increased anxiety and fear.
"We know that stressors are important to cardiovascular health," lead author Rebecca Thurston, Ph.D., director of the Women's Biobehavioral Health Laboratory, University of Pittsburgh, tells Inverse. "Harassment and assault are so prevalent in women, and such toxic stressors, and it is important to understand the implications they may have for women's health."
As the study shows, the links between sexual assault, harassment, and the subsequent health effects are clear. Assault is inherently violent, and violence, in turn, can induce acute stress disorder, which can become post-traumatic stress syndrome. Those illnesses can be accompanied by sleep disorders, substance abuse, and flashbacks, all of which are debilitating not just to the individual but the people around them. Whole families become affected by the trauma because anxiety and depression take a toll on relationships and on offspring health.
Underlying these effects is the fact that harassment and assault makes people feel unsafe, which also induces anxiety and depression. "These, in turn, are known to increase the risk of a number of diseases including heart disease, the leading killer of women," says Wake Forest School of Medicine professor of pathology Carol Shively, Ph.D., who was not involved in this study but is an expert on women's health and their susceptibility to stress.
This connection between stress and cardiovascular health is what led Thurston, who studies biobehavioral health in women, to become involved in this research. In the study, she and her colleagues evaluated the effects of trauma in 304 nonsmoking women aged 40 to 60 years old, all of whom did not have cardiovascular disease. Within this group, a total of 19 percent reported a history of workplace sexual harassment, 22 percent reported a history of sexual assault, and ten percent of women reported having experienced both events.
The data showed that women with a history of sexual harassment had significantly high blood pressure and poor sleep quality, and women with a history of sexual assault had high depressive symptoms, anxiety, and poor sleep quality. Overall, women with a history of sexual harassment had a higher education yet more financial strain than women who had not.
One of the most distressing parts about this study is that the prevalence of sexual harassment and assault in this group of women was so high, especially considering they were selected randomly. They were originally chosen to be part of a study on menopausal hot flashes.
In the United States, an estimated 40 to 75 percent of women have experienced workplace sexual harassment, and one in three women have experienced sexual assault. Movements like #MeToo are increasing public awareness about how commonly these traumatic events happen. Now, it's time for greater public awareness about how women's health is affected by those events as well.
"These results are not surprising, but very important for us all to understand," says Shively.
"Sexual harassment and sexual assault are common and stressful. We need to appreciate the greater health toll that sexual harassment and sexual assault have on our family's health, and on our national health."