Future iPhones Could Hide Front Camera Using New Technique, Report Claims
Jeff Pu claims Apple has something big up its sleeve.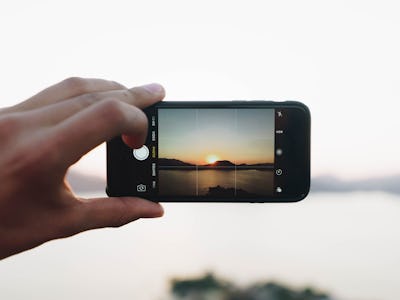 Unsplash / César Guadarrama Cantú
Apple could move one step closer to delivering a sleek, seamless iPhone front panel in a future device. A Friday analyst note from GF Securities' Jeff Pu claims that the company could soon utilize a black coating for the iPhone's front-facing camera, enabling the lens to disappear into the frame without sacrificing quality.
The note, MacRumors states, claims that a couple of smartphone manufacturers could bring the technology to market as early as 2020. If possible, it could alleviate some of the big design issues around the "notch," a controversial change introduced with the iPhone X last year where the face recognition tools and front camera intrude on the screen at the top, creating a cutout. While the change is invisible in many circumstances, with the OLED screen switching off pixels around the notch in select circumstances, the front camera first introduced with the iPhone 4 in 2010 interrupts the otherwise seamless border.
See more: iPhone XS Battery Life Compared to Android, and the Results Are Surprising
Apple has spoken before about how the iPhone X represents the company's plan for the next 10 years. The iPhone XS largely upgrades the internal processor with a neural engine capable of powering artificial intelligence at much faster speeds, a change that enables even faster face recognition. Analysts suggest the face scanner is around two years ahead of anything Android competitors can hope to produce. The notch may look odd, but it's placed Apple well ahead of others.
It's not the only change suggested for future devices. A previous report claimed Apple plans on introducing TrueDepth sensors similar to the front-facing setup for the rear of the phone, enabling deeper augmented reality experiences. Another patent filing suggests Apple could develop a foldable phone that could go head-to-head with a similar device from Samsung.
With Apple set to roll out the iPhone XR later this month, it seems the company is already moving to get Face ID into more users' hands. By this time next year, it could look decidedly dated.