iPhone XS Report Claims Missing Feature Also Won't Return in 2019 Model
Some may miss the feature.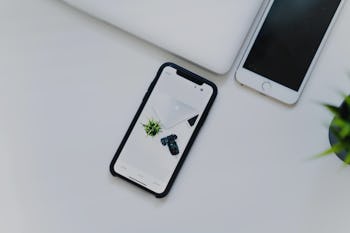 Unsplash / Ron McClenny
Apple is sticking with its face recognition technology, according to a report released Tuesday from analyst Ming-Chi Kuo. The company ditched its fingerprint scanner present since 2013's iPhone 5S with the launch of the iPhone X in 2017, but while Android smartphone makers are exploring ways to place a scanner under the screen, Kuo claims Apple does not plan to bring back the feature.
The note, shared with MacRumors, claims that the iPhones launched in the second half of 2019 are not expected to use fingerprint-on-display technology. Android manufacturers are now working on using the tech to produce phones with giant front screens without sacrificing security, with the Vivo X21 world's first fingerprint-on-display smartphone receiving better feedback than expected. Vivo demonstrated its technology at the Shanghai Mobile World Congress in June 2017, using ultrasonic technology to hide the scanner under a display just 1.2mm thick. The scanner sends a pulse to measure the ridges of the print, while a sensor detects the variations in signal.
See more: Analyst Reveals Why Future iPhones May Ditch Face ID
Apple appears dedicated to Face ID. The iPhone's designer Jony Ive claimed in an interview that the company had been working on face detection for around five years, while in another interview he described the X as "a new chapter" in the company's history. Apple claims that Face ID, which projects 30,000 dots onto the user's face and checks for a match in a similar process to a Microsoft Kinect, has about a one in a million chance of matching with the wrong face compared to Touch ID's one in 50,000 rate.
Kuo has suggested before, however, that Apple will ultimately ditch facial recognition. In a March note the analyst wrote that "we recognize that under-display fingerprint recognition is key for full-screen designs, and we don't think that facial recognition can fully replace fingerprint recognition, [so] we remain positive on this technology over the long term." However, Kuo also noted in October 2017 that Face ID is around two-and-a-half years ahead of anything Android makers could put out, giving the company a sizeable lead.
Apple is expected to unveil its next iPhones at an event on September 12 at 10 a.m. Pacific time. Rumors suggest the company will unveil three Face ID-touting smartphones, with a 6.1-inch LCD model alongside a 5.8-inch OLED model and a 6.5-inch OLED model.
Fingerprint scanning could prove the next big differentiator for Android makers.