Trent Reznor Scoring 'Watchmen' Corrects a Big Failure of the Movie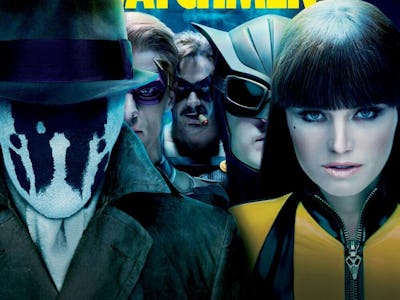 Warner Bros. Pictures
There's a lot wrong with Zack Snyder's 2009 adaptation of Watchmen, but the movie's score is near the top of that list. So the news that Trent Reznor (one half of Nine Inch Nails), is scoring Damon Lindelof's Watchmen on HBO should put fans of the original comic at ease — and not just because it's the best musician-subject pairing since Batman and Danny Elfman.
On Thursday, Reznor revealed on Instagram that he will compose the music for Watchmen, the HBO television adaptation of Alan Moore and Dave Gibbons' seminal 1988 satirical comic book.
"We are very excited and proud to be working with @damonlindelof & @HBO on WATCHMEN," Reznor wrote, with a photograph of his face smudged with the blood stain found on the Comedian's smiley face. After gushing about The Leftovers (Lindelof's last HBO series), Reznor raved about "how impactful Watchmen has been on me."
Trent Reznor's film discography, including 2010's The Social Network and 2012's The Girl with the Dragon Tattoo, are distinctly unnerving and unsettling as they give audial identity to broken people. Watchmen, a grim story about broken people, practically screams for Reznor's touch.
But more exciting than the prospect of Reznor's Watchmen is that it can improve where the 2009 Watchmen film fell short. All respect to Tyler Bates, but few remember his score.
The film's most distinct pieces of music were all licensed, such as Bob Dylan's "The Times They Are A-Changin'" in the (still) amazing opening credits, and Leonard Cohen's "Hallelujah" set to the most awkward sex scene in film history. Philip Glass' memorable, utterly haunting "Pruit Igoe" and "Prophecies" are also not original to the movie.
Film scores are important! It's why any kid anywhere in the world can hum Star Wars on instinct. It's why audiences cheered during Captain America's return in Avengers: Infinity War. Music gives identity, and while the Watchmen aren't soaring heroes, they still need identity. Even if they're secret.
Watchmen is scheduled to premiere on HBO in 2019.