Trent Reznor and Weezer Dropped Fun AF Juno Mission Singles
The probe will be bumpin' some sweet tunes when it reaches Jupiter.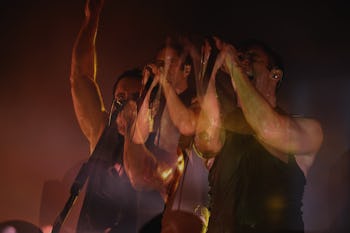 Getty Images / Theo Wargo
The Fourth of July will be a huge day for the historic Juno mission, and NASA has decided to go ahead and get weird with it. Five years ago, when the agency launched the heavily armored probe toward Jupiter, which it will orbit at an altitude of 3,100 miles, people still played Weezer songs with Rock Band – and Trent Reznor's Social Network soundtrack mattered. Fitting, then, that NASA asked Rivers Cuomo and Reznor (with Atticus Ross) to record songs for the probe. Those singles just dropped and they are way more fun than they have any right to be.
The Reznor-Ross collaboration is more of a teaser than a full song, but the 30-second clip, which you can listen to on Apple Music and iTunes, is a haunting, celestial, ambient track that has a Gone Girl-feel but still sounds like it could be the intro to a crushing Nine Inch Nails track. Reznor and Ross used actual sounds of Jupiter singing collected by NASA's Voyager probe, which feels like the sort of thing Pharrell would do if he wasn't busy doing other stuff.
If you dig the song, here are some deeper Jupiter cuts.
Weezer's offering, on the other hand, is not at all celestial. In fact, it doesn't seem to have much to do with NASA, or Juno, or Jupiter; but fuck it, it's summer, let's party. Their track is called "I Love the USA," because Weezer loves the USA, and NASA is a government agency. It's a big, poppy, synth-heavy track that features Rivers Cuomo singing both "I love the USA / Fuck yeah, this place is great," and "God save the king," for some reason. Cuomo said on the band's website that some time away from his homeland inspired the tune.
"When Apple and NASA asked us to be involved with Juno's historic landing on July 4th, this song seemed like the perfect fit," writes the frontman.
Sure dude, we'll take it. Here's "I Love the USA" in all it's glory, or you can get it here on iTunes.