'Y: The Last Man' TV Series Begins Filming 17 Years After the Comic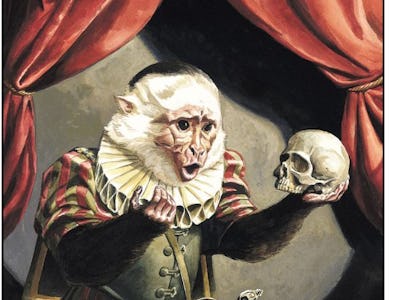 Vertigo
Almost seventeen years after Pia Guerra and Brian K. Vaughan's prestige comic book series Y: The Last Man first hit stands, filming for the live-action television series begins.
On Thursday, comic book illustrator Pia Guerra tweeted two photos from the set of Y, the pilot to the live-action TV adaptation ordered by FX. There's nothing revelatory documented in the photos — not even the pet monkey — but for fans of the comic book, it's proof that an adaptation of Y: The Last Man is finally happening after so many years of starts and stops.
With Guerra in one of the photos is series co-creator Vaughan, which she captioned, "17 years later…"
The first issue of Y: The Last Man was published on September 4, 2002.
Published by DC's Vertigo, Y: The Last Man explores a world where all mammals with a Y chromosome have suddenly died. Escape artist Yorick Brown (Barry Keoghan, Dunkirk) and his pet monkey, Ampersand, are the last surviving members of the male species, and together must navigate a new civilization facing extinction. In a July report from Variety, Yorick is described as "a young man quick to use humor to deflect from his problems who may be the lone male survivor of a worldwide plague."
The pilot will also star Diane Lane (Batman v Superman: Dawn of Justice), Imogen Poots (I Kill Giants), Lashana Lynch (Captain Marvel), Juliana Canfield (Succession), and Marin Ireland (Sneaky Pete).
There is no premiere date for Y.