Marvel To Adapt Brian K. Vaughan's 'Runaways' As Hulu Series
The cult favorite comic will be joining Marvel's growing television lineup.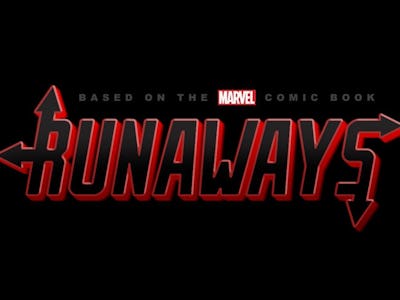 Marvel Comics
Hulu will soon join ABC and Netflix in producing television shows based on Marvel comics. The company has ordered a series based on the popular Marvel comic Runaways by Brian K. Vaughan and Adrian Alphona.
Vaughan and Alphona's Runaways was originally pitched to Marvel's Tsunami imprint, which was created to attract new readers who were either younger or fans of manga. While Tsunami eventually collapsed, Runaways found a home at Marvel proper and the series quickly developed a cult following.
Runaways follows a group of teenage friends living in Los Angeles who discover their parents once formed a villainous organization known as "Pride", and they now control Los Angeles as the city's criminal overlords.
Once their parents' identities as super villains are revealed, the six teens run away from home – into a secret hideout where they eventually discover their own unique powers. Using such powers as magic, alien strength, scientific gadgets, and a telepathic connection to a genetically engineered dinosaur, the Runaways begin a literal war against their own progenitors.
The series is being developed by Josh Schwartz and Stephanie Savage who created Gossip Girl and The O.C. together. While this might appear to be an inexpected choice, Runaways is almost perfectly tuned to Schwartz and Savages's sensibilities. Runaways really does feel like a young adult, coming-of-age story, with the added twist of superpowers. Teen drama, obvious conflicts with parents, and burgeoning adulthood all weave together to form a beautiful, dramatic, and funny story about one of Marvel's best, and under-appreciated superhero teams.
The Marvel universe is filled with more traditional super-powered teams of teenagers – like The Young Avengers or Ultimates – that would make for action-packed, fun-spirited adventures. Runaways by contrast is surprisingly dark for a series that involves parents engaging in life-or-death combat with their own children. The comic's balance of teen drama and super-powered action is unconventional, to say the least – which will be fascinating to see adapted for television.
The Hulu series will be produced by Jeph Loeb and Jim Chory, who previously worked on Netflix's Jessica Jones and Daredevil, respectively. While there's no indication as to how dark or serious the tone of Runaways will be, the creative team behind the series – and its alliance with a streaming site like Hulu – suggests that the show probably won't adhere to standard television procedures.