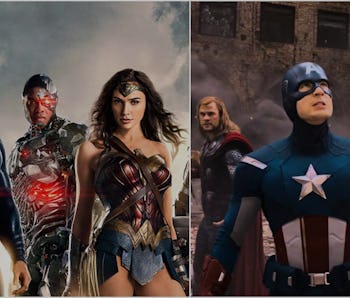 Entertainment
'Justice League' Actor Says Movie Won't Be Better Than 'Avengers'
So far, there have been three movies in DC's Cinematic Universe, and while the upcoming Wonder Woman is getting good buzz, the DCEU hasn't exactly been well received. The big test is going to come this fall when Batman, Wonder Woman, and the rest of DC's bigshots come together in Justice League. Can that movie possibly top Marvel's equivalent, 2012's The Avengers?
According to one Justice League actor, "no."
During an appearance on Bravo's Watch What Happens Live, actress Diane Lane, who plays Clark Kent's mom, received a couple Justice League-related questions from an eager caller.
"Can you give us any Justice League spoilers, and do you think it will be better than The Avengers? the caller asked.
"No and no," Lane responded. "Short, but honest. I hate to disappoint."
Now, shitting on DC movies is something of an internet pastime, but you have to admire Lane's honesty, even if the Warner Bros. PR people are probably not especially thrilled. Justice League might very well be a good movie, but surpassing The Avengers, which brought beloved heroes together on screen for the first time with great success, would certainly be something.
Justice League hits theaters on November 17.
You May Also Like:
'The Flash' Hints That Wonder Woman Exists in the Arrowverse
6 DC Spin-Off Movies That We Want to See ASAP
Amber Heard Brings Much-Needed Color to DC in 'Aquaman'
Zack Snyder Leaves 'Justice League' Following Family Tragedy