Amber Heard Brings Much-Needed Color to DC in 'Aquaman'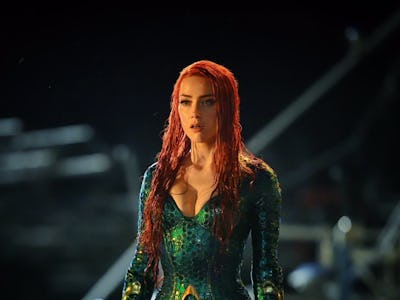 Twitter.com/creepypuppet
Jason Momoa will play Aquaman in Justice League later this year, in November, but the beefy Game of Thrones alum will reprise his DC Comics hero in next year's Aquaman from James Wan (The Conjuring). He'll be joined by Amber Heard as Mera, Queen of Atlantis, and Arthur Curry's Atlantean true love. Earlier today, Wan shared a photo from the set of Aquaman, which is now shooting in Australia, showing off Heard's stunningly comic book accurate costume.
Wan shared the photo, which was taken by set photographer Jasin Boland, on Twitter on Thursday afternoon. In the tweet, the director wrote that it was his first day with Heard on set, and she and the proudly comic-booky costume looked great. We've seen her Mera before, but only as she'll appear in Justice League — which means that we haven't really seen her, since Zack Snyder's grim color palette preferences drained all the vivid green from her suit.
It's honestly exciting to see some color in the DC Extended Universe. Patty Jenkins's Wonder Woman seems to be loaded with color, but both Man of Steel and Batman v Superman: Dawn of Justice were just too dark and dull to enjoy the sights. David Ayer's Suicide Squad had color, but it still wasn't pleasant to look at.
Check out Wan's tweet below.
Aquaman will premiere in theaters in 2018.
You May Also Like:
Zack Snyder Leaves 'Justice League' Following Family Tragedy
'The Flash' Hints That Wonder Woman Exists in the Arrowverse
6 DC Spin-Off Movies That We Want to See ASAP
'Justice League' Actor Says Movie Won't Be Better Than 'Avengers'