'Y: The Last Man' Is Finally, Finally, Finally Becoming a TV Series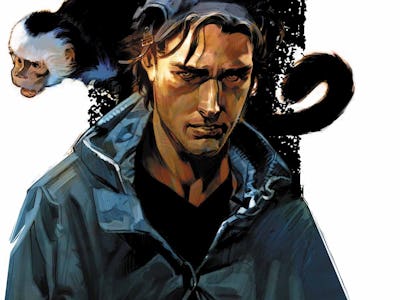 Vertigo 
Finally. After what has been actual years in development, Pia Guerra and Brian K. Vaughan's acclaimed comic book series Y: The Last Man will finally become a live-action television series.
On Thursday, Variety reported that Vaughan and Guerra's sixty-issue opus Y: The Last Man has received a pilot order from FX. The series will be overseen by co-showrunners Aida Mashaka Croal, whose previous credits include Marvel's Luke Cage, and Michael Green, whose credits include Logan, Murder on the Orient Express, and Blade Runner 2049. Melina Matsoukas, from Master of None, will direct the pilot and work as executive producer.
Published by DC's prestige imprint Vertigo between 2002 and 2008, Y: The Last Man follows the last two living members of the male species on Earth: Yorick Brown, an escape artist, and Ampersand, his pet monkey. In the aftermath of a freak occurrence in which all other mammals with a Y chromosome suddenly die, Yorick tries to survive as civilization reckons with extinction.
As one of the most popular comic books and an early example of "prestige" comics of the 2000s, Y: The Last Man has been in and out of development for years. Back in 2007, New Line Cinema tried to adapt the comic into a feature film with D.J. Caruso attached to direct.
In 2010, Caruso walked away from the project, telling MovieWeb it was "too much for one screenplay." For awhile, 10 Cloverfield Lane director Dan Trachtenberg was signed on to direct, but revealed on Twitter in 2014 that the rights reverted to Vaughan and Guerra.
During its sixty-issue run, Y: The Last Man earned three Eisner Awards and a Hugo Award for best graphic novel.
There is not a premiere date for Y: The Last Man just yet.