Why Mark Zuckerberg's Removal of 652 Facebook Accounts Is Big for Politics
The CEO has made a big change.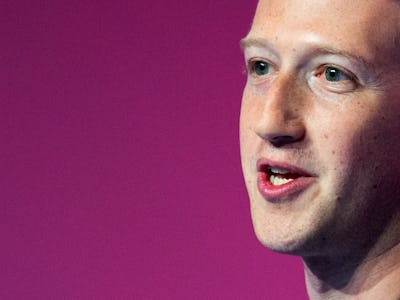 GSMA
Facebook CEO Mark Zuckerberg announced on Tuesday that the site removed 652 pages, groups, and accounts linked to "networks of coordinated information campaigns" from Iran and Russia, as part of a plan to protect against election interference. The move comes after the social network was criticized for not protecting against threats in previous elections.
"Today we removed more than 650 Pages, groups, and accounts for coordinated inauthentic behavior on Facebook and Instagram," Zuckerberg announced on his personal Facebook page.. The findings came in two sets: activity from Iran, some of which had ties to state-owned media, and activity that the American government has previously linked to Russian military intelligence services. "These were networks of accounts that were misleading people about who they were and what they were doing. We ban this kind of behavior because authenticity matters. People need to be able to trust the connections they make on Facebook."
See more: On Freakonomics Radio: Mark Zuckerberg Admits Facebook's Mistakes. Sort Of.
Zuckerberg came under heavy criticism for his response to election meddling accusations in the 2016 United States election. The CEO dismissed the idea that fake news influenced the election as a "pretty crazy idea" days after Donald Trump's win. It later emerged that Zuckerberg dismissed the issue of fake news to then-president Obama two months prior to Trump's inauguration. This attitude changed over the months, and in October 2017, the company released a report that showed up to 126 million people may have seen 80,000 posts from the Russia-linked Internet Research Agency between June 2015 to August 2017.
Facebook's latest efforts come just one month after the company removed 32 other accounts for aiming to influence elections. One investigation that led to Tuesday's account removal centered on a group called "Liberty Free Press" that had access to 155,000 followers on its accounts. This group has been on the service since 2013 and Facebook has been investigating for months. However, Zuckerberg noted that if the social network acts too early "it's harder to understand their playbook and the extent of their network" and "it can also make it harder for law enforcement who are running their own investigations."
Facebook, Google and Twitter representatives are set to appear before the Senate Intelligence Committee on September 5, two months before the midterm elections, to discuss these efforts. In the case of Twitter, the firm announced on Tuesday it had also suspended 284 accounts involved in similar manipulation tactics.
Over the course of the Trump presidency, the company has gradually shifted its stance to more proactively moderate political influences.