Zuckerberg Told Obama Fake News on Facebook Wasn't a Problem
The news comes after Zuckerberg agreed to hand over Russian-funded ads.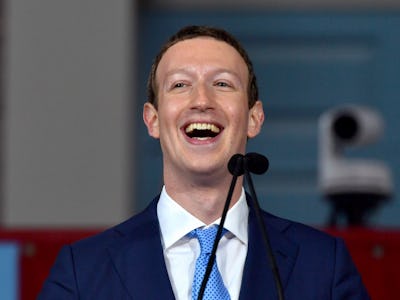 Getty Images / Paul Marotta
Mark Zuckerberg dismissed suggestions from former president Barack Obama that fake news is a widespread issue on Facebook, it emerged on Sunday. The meeting, which reportedly took place in the days after president Donald Trump's surprise victory, was cited as an example of how the social network struggled to get to grips with its effect on the 2016 election.
Obama, the Wall Street Journal claims, met Zuckerberg at a world leaders meeting in Lima two months before Trump's inauguration. Obama warned the Facebook CEO that if the company did not work harder to tackle fake news and disinformation, it could harm the next presidential election. Zuckerberg claimed the messages were not widespread and there was not a simple solution.
The revelation comes after Zuckerberg announced plans to turn over 3,000 ads to Congress. Russians paid over $100,000 for the ads through automated services between June 2015 and May 2017. When Zuckerberg announced the plans last week, it was part of a multi-step approach that would lead to greater transparency in ad buying.
Although Zuckerberg's announcement seemed like a step in the right direction, he noted that this kind of interference may simply be a fact of life, a sentiment that echoes his supposed comments to Obama.
"I wish I could tell you we're going to be able to stop all interference, but that wouldn't be realistic," Zuckerberg said in a live video feed from Facebook's headquarters in Melo Park, California. "There will always be bad actors in the world, and we can't prevent all governments from all interference."
Watch Zuckerberg's speech here:
Some argue that Facebook could have, and should have, done more. Zeynep Tufekci, as associate professor at the University of North Carolina at Chapel Hill, told the Wall Street Journal that social media companies were behind a "systematic failure of responsibility" that had its roots in an overconfidence about the world and an effort to avoid oversight.
A Facebook representative claims the company had acted appropriately throughout.
"We believe in the power of democracy, which is why we're taking this work on elections integrity so seriously, and have come forward at every opportunity to share what we've found," Elliot Schrage, vice president for public policy and communications, told the Wall Street Journal.