Mark Zuckerberg Thinks Facebook's Fake News Problem Is NBD
It's "a pretty crazy idea" that it influence the election.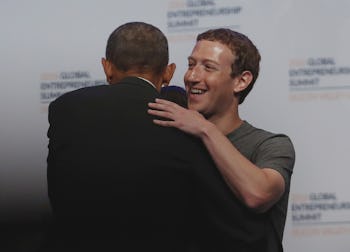 Getty Images / Justin Sullivan
Just two months after acknowledging that Facebook could do a "better job" filtering fake news, CEO Mark Zuckerberg dismissed claims that the social media platform's algorithmic boost to fake news stories helped Donald Trump win the 2016 election.
"I think the idea that fake news on Facebook — of which it's a very small amount of the content — influenced the election in any way is a pretty crazy idea," Zuckerberg said during a speech Thursday at Techonomy, a technology conference in Half Moon Bay.
Adam Mosseri, VP of Product at Facebook, backed up his boss in a statement on Thursday.
"We take misinformation on Facebook very seriously. We value authentic communication, and hear consistently from those who use Facebook that they prefer not to see misinformation," Mosseri told TechCrunch. "In Newsfeed we use various signals based on community feedback to determine which posts are likely to contain inaccurate information, and reduce their distribution."
Unsurprisingly, the comments resulted in a substantial backlash online.
Critics pointed out that Zuckerberg's comments seem contradictory to the company's promises made to advertisers that the platform has significant influence over consumers.
Mosseri didn't clarify how exactly the company reduces misinformation, especially since in August the company laid off its team of editors responsible for curating the feed. Just a day after the layoffs a false story claiming Megyn Kelly supported Hillary Clinton started circulating.
"Despite these efforts, we understand there's so much more we need to do, and that is why it's important that we keep improving our ability to detect misinformation," Mosseri said. "We're committed to continuing to work on this issue and improve the experiences on our platform."
Even if Zuckerberg insists that fake news is "a very small amount" of the site's content, it's proven to be a lucrative venture. BuzzFeed reported that there were over a 150 pro-Trump fake news sites operating in Macedonia alone, with page admins raking up to $5,000 a month in earnings.
Zuckerberg has insisted in the past that Facebook is "not a media company," but its users don't tend to see it that way. According to Pew Research Center, 62 percent of Americans get their news from social media and 76 percent of Facebook users check the site on a daily basis. Even after a contentious election, Facebook's influence over politics isn't likely to diminish anytime soon.