'Fortnite' Season 6: Start Time, Themes, and Events
Everything to know about the end of Season 5 and what comes next.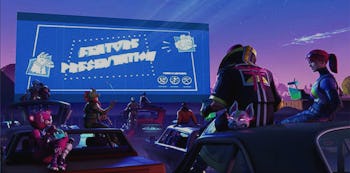 Epic Games
There's still plenty of time and challenges left for Fortnite: Battle Royale players before the current Season 5 ends and Season 6 begins. Rumors among fans are that the huge rift portal in the sky could do something drastic any day now, which could reshape the map and pivot toward a new storyline for the upcoming season. Or maybe those are just rumors?
It's always good to prepare for the future in Fornite, a game where vikings can appear from nowhere and villains can launch rockets into the sky.
So what do players need to know about Season 6 based on what's going on in Fortnite right now? Below is a continuously updated list of updates and news on Fortnite: Season 6.
When Does Fortnite Season 5 End?
Within the in-game Fortnite menu, the Battle Pass page lists a countdown that details how many days until the end of the current season. This indicates that Season 5 will end on Monday, September 24, 2018, a day before what was previously reported closer to the start of the season.
Keep in mind that the end time of Season 5 and start time of Season 6 are constantly in flux. When Season 4 transitioned to Season 5 in July, Epic Games adjusted the exact timing so that players might have more time to unlock their previous Battle Passes.
## When Does Fortnite Season 6 Begin?
With past seasons, the transition between each season tends to be almost immediate, with perhaps a few hours of downtime between one season and the next.
In all likelihood, Season 6 will start on Tuesday, September 25, 2018 at 4 a.m. Eastern right after the previous season ends, but that is subject to change. In the last two seasons, Epic Games has extended each season by a few days and adjusted the timing of the weekly reset multiple times a season. There's no telling what could change in the next month, but as of right now, September 25 looks like the start of Season 6.
What Is the Theme of Fortnite Season 6?
Once upon a time, Season 3's meteor strikes led to a massive meteor strike on Dusty Depot that reshapep the map. Season 4's rocket launch triggered a huge rift portals to open in the sky, setting the stage for smaller portals and objects displaced in time and space. The rocket launch happened just under two weeks before the end of Season 3 and offered a hint at the "Worlds Collide" theme for Season 5.
So it's possible that in the coming weeks, Season 5 will also feature a culminating event that serves as the foundation for the upcoming Season. Plenty of fans think that might coincide with the supposed shrinking and disappearance of the massive rift portal.
Related video: Squad Up is the Inverse talk show that takes place entirely inside Fortnite. Follow us on Twitch!