The Boring Company Plans Student Tunnel Tours to Demo Its Vision of Transit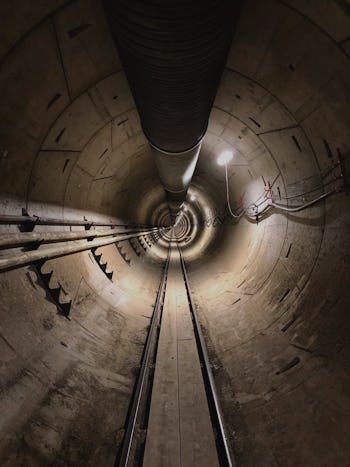 Boring Company/Twitter
The Boring Company, Elon Musk's tunnel-digging venture, is inviting students to take a closer look at the firm's vision for the future of transportation. The company announced on Tuesday that tours will host up to 30 students from schools in the Los Angeles county to take a closer look at the Hawthorne tunnel site.
The move is the latest in a series of measures aimed at publicizing Musk's work on improving the tunnel industry. Musk gave his first in-depth interview about his new venture in February 2017, explaining how tunnels could provide extra capacity for cities without disrupting road layouts or blocking the sky with flying cars. The Hawthorne site, located by the SpaceX campus around 44 feet below the surface, serves as the company's testing ground for developing machines that can run even while tunnels are being built. The goal is to beat Musk's pet snail Gary, as snails move 14 times faster than conventional tunnel machines.
See more: Why Elon Musk's Gary the Snail Is Critical to Boring Company's Success
Beyond student tours, The Boring Company has plans for a number of publicity events. A competition chose 10 lucky buyers of the company's 50,000 limited branded baseball caps, inviting them to drive one of the machines on July 22. Musk also announced in May plans to offer free rides to the public along a 2.7-mile tunnel running under the city of Los Angeles, dependent on regulatory approval.
Beyond these two tunnels, The Boring Company has two other projects in the works. The city of Chicago approved the firm's plan to build a "loop" system from O'Hare Airport and Block 37 in downtown Chicago, carrying eight to 16 passengers for $1 each on a skate moving at up to 150 mph, up to four times faster than existing downtown links. Another proposal would build a 35-mile tunnel from Washington, D.C. to Baltimore with similar electric skate specs.
Details about the Chicago proposal should come soon, with the company's website declaring that an alignment map will be posted this summer. Students from the Los Angeles County interested in witnessing some of the firm's work are invited to email the company through studenttours@boringcompany.com.
While 150 mph trains are cool, the company could go one step further. Musk has spoken before about how these "loop" skate-based tunnels could one day support the hyperloop with theoretical top speeds of 700 mph.