Why Elon Musk's Gary the Snail Is Critical to Boring Company's Success
The snail, just like the company, is on the move.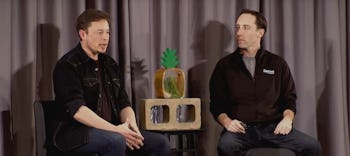 Boring Company/YouTube
Elon Musk's snail is playing a key role in the development of hyperloop, a transit system that moves people at speeds of up to 700 miles per hour. While the gooey gastropod called "Gary" may not look like it has the need for speed, Musk explained on Twitter Friday how he's motivating the team to improve its tunnel-digging times.
Gary has been a regular feature of The Boring Company's efforts ever since work started on the company's test tunnel in May 2017. The snail, named after the character in Spongebob Squarepants, sits in a pineapple-shaped terrarium "taunting [the team] with his speed," according to Musk. At a TED Talk the same month construction started, Musk explained that the snail moves 14 times faster than a tunnel-digging machine. The plan is to improve machines to the level at which they move faster than a snail, which will help reduce costs and improve the economics behind tunnel construction.
The company has detailed on its website how it wants to reach this goal. The plan is to triple the boring machine's power, bring automation technologies to the larger machines to reduce the number of operators required, and move to a system of continuous tunneling. Soft-soil machines dig for just 50 percent of the time, so a system that allows a team to build support structures at the same time as digging could help significantly reduce costs. Musk has suggested the company's efforts could make tunneling 10 times cheaper.
Musk kickstarted The Boring Company's publicity campaign on Thursday at the Leo Baeck Temple in Los Angeles, taking questions about the company's plans to build a 2.7-mile proof-of-concept tunnel parallel to a highway in Los Angeles. This system would move 16 people per pod from downtown to the international airport in just eight minutes, with rides costing just $1. From there, the company is planning a number of other projects, including a "true hyperloop" from San Francisco to Los Angeles with construction starting in 2019.
Before that, Musk said earlier this month that the company will offer free rides to the public on its proof-of-concept tunnel to demonstrate the progress it's made on changing transportation.
Not bad for a transport company using a snail as inspiration.